Posted by Jonathan Maus (Publisher/Editor) on July 18th, 2011 at 3:37 pm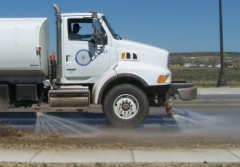 A spray truck similar to this one
was involved in the incident.
(Photo: City of Wyoming)
The Portland Bureau of Transportation says a City employee who soaked a group of people riding up N. Williams Avenue on July 7th was completely unaware of the incident.
PBOT spokesperson Chery Kuck says the driver of a street flusher truck (the trucks that run in front of street sweepers) was spraying the left side of the Williams Avenue and had no idea that his right side sprayer — the one that happened to soak a group of people riding in the bike lane — was also turned on.
"He was unaware that his front sprayer had been left on by a prior operator," said Kuck, in a phone call to BikePortland.
"Management is satisfied that he did not intentionally spray anyone or create a safety hazard for the cyclist."
— Cheryl Kuck, PBOT
The incident happened just before 11:00 pm, which Kuck says added to the truck driver's difficulty in being aware of his sprays. "It's difficult to see the spray at night, and there's no gauge or indicator in their cab that would let them know that this nozzle is operating," she said.
People who were soaked by the spray were understandably upset by the incident, especially because they thought the truck operator had done it on purpose.
However, PBOT's Kuck says that the second spray was due to a technical limitation of the truck itself. It turns out the truck must be turned on for the spray nozzles to be turned on or off. Based on conversations with the man operating the truck, here's how Kuck says the incident happened:
"When the bicyclist rode in front of the truck, he [the truck operator] stopped, turned his engine off, and talked with the bike rider. He tried to apologize but he was alarmed by the anger of the bicyclist so he got back in his truck... He had to turn the engine back on before he could turn the sprayer off."
Kuck says it wasn't the truck driver's intention to spray the second time either.
In light of the incident, Kuck says PBOT has reminded all their drivers to check all controls prior to beginning their shifts. "We've reminded them that all spray controls need to be left in the turned off position."
Kuck also confirmed that, in light of conversations they had with the driver, no disciplinary action will be taken. "Management is satisfied that he did not intentionally spray anyone or create a safety hazard for the cyclist."
Email This Post
Possibly related posts