Posted by Jonathan Maus (Publisher/Editor) on December 9th, 2008 at 11:42 am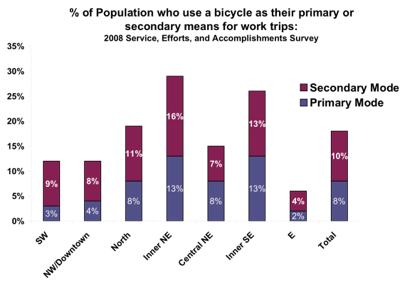 This chart from the City Auditor's 2008 Service, Efforts, and Accomplishments survey shows that in some NE Portland neighborhoods, 29% of residents use a bicycle as their primary or secondary mode to get to work.
-- More graphics below --
The annual Service, Efforts, and Accomplishments Survey (SEA) from the City Auditor has been released and the results show that Portland's streets are getting safer as more Portlanders go by bike and fewer people drive to work alone.
The survey results were released last night. Among the mountains of data in the full report are several interesting tidbits about biking and traffic safety. Here are the highlights:
-- When asked, "What is the primary means to get to and from work?", 8% of Portlanders said bike. That's up from 6% last year and the number has doubled since 2005. 11% of respondents said they take bus, MAX, or streetcar and 65% said they "Drive alone" -- down 5% from 2007.
advertisement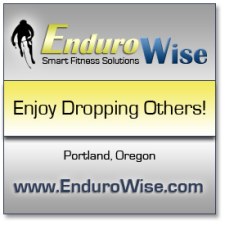 -- When asked, "If you sometimes use a different mode to get to and from work, what is it?", 10% of Portlanders said they take a bike (that's the same as in 2007).
-- When asked, "In general, how do you rate the streets in your neighborhood on the safety of bicyclists?", 44% percent said, "good or very good". That's down from 47% last year.
-- In 2008, there were 140 "traffic injuries" to individuals on bicycles. That's down from 196 in 2007 and it's the lowest number since the survey was taken in 1999. The same goes for pedestrian injuries; there were 123 in 2008, down from 191 in 2007. There was also a major drop in the amount of individuals injured while operating an automobile; the survey reports 4,428 injured, compared to 5,429 in 2007.
Tree-lined streets and smart engineering
have helped lead to a 13% bike commute
mode share in inner SE Portland.
(Photo © J. Maus)
One stat that PDOT's bike planners love to see each year is the combined total of what residents say is their primary and secondary mode of travel to and from work. In the bike-riding hotspots of inner SE and NE Portland, that number is 26% and 29% respectively.
This year, inner NE Portland finally edged out SE Portland as the bikiest area of town. Last year, 24% of inner SE Portlanders said the bike was either their primary or secondary choice while that number was just 23% for inner NE Portlanders.
Interesting to note is that inner NE and inner SE both report a 13% bike commute mode share.
*Update: City bike coordinator Roger Geller points out to me that the 13% bike commute number is likely to be "significantly higher" because, "on any given day some of those 13-16% secondary users are also going to be out bicycling to work."
He also send over a few more graphs with the neighborhood bike commute percentage breakdowns:
More SEA survey results, along with many other interesting surveys from the City Auditor can be found at PortlandOnline.com.
Email This Post
Possibly related posts