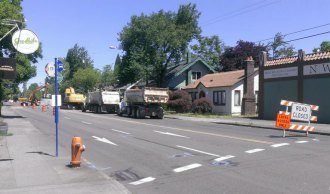 Cesar Chavez is closed for the next 21 days.
(Photo: Joe Bike)
A City of Portland sewer project has led to the closure of SE Cesar Chavez Blvd (39th). The street is closed from Hawthorne to Division 24/7 beginning today through July 18th.
Cesar Chavez is a high-volume arterial for people who drive through the area and the City has signed detours that direct drivers to SE 30th and 50th avenues. However, we're already getting reports that many people are driving on SE 41st and 34th, both of which are popular streets for bicycling. Sharon Martell shared with us via Twitter that people riding bikes should be especially careful on 41st and that "most cars are diverting there." Teri Solow added that there are also a "bunch more cars on 34th".