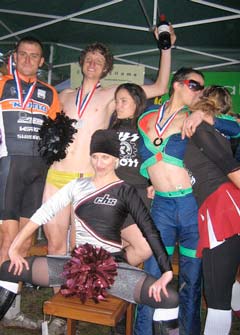 This is why I love
Portland's 'cross scene.
(Photos: Kenji Sugahara)
Regrettably, I wasn't able to attend last weekend's cyclocross debauchery out at Estacada Timber Park (30 miles southeast of downtown Portland).
Not only was it the sixth stop in the Cross Crusade series, but the event also crowned the King and Queen of single speed cyclocross.
Yes, it was the first annual Single Speed Cyclocross World Championships.
If you're curious what you missed, the photo at right should give you a clue. Then there's this snip from the official press release put out by the Oregon Bicycle Racing Association (OBRA):