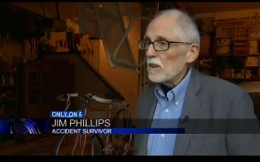 Jim Phillips had to wait six months
before he could thank the people
who saved his life.
(Screen grab from KOIN-TV)
It might sound trite, but Jim Phillips truly is lucky to be alive. Jim, 68, was on the Pioneer Century ride this past summer, enjoying a perfect day in the saddle, when he crashed hard on a steep downhill.
The crash broke Jim's ribs, neck and back. His lungs were punctured which led to severe internal hemorrhaging. He cried out for help, in "agonizing" pain, from far down in a ditch. But no one heard him. It wasn't until he pulled himself to the side of the road that he finally got some attention. The four people that stopped to help him couldn' have known it at the time, but their actions very likely saved Jim's life..