by Jonathan Maus (Publisher/Editor) on November 1st, 2012 at 3:44 pm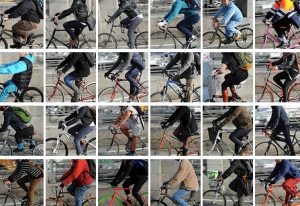 (Photos © J. Maus/BikePortland)
Welcome to the latest installment of People on Bikes. Our last one showed the fantastic people riding into Brooklyn via the Manhattan Bridge. That was before Sandy came to town. In the spirit of reminding the world that biking is alive and thriving here in New York City, I now present a post-Sandy People on Bikes.
Coverage from New York City
made possible by:
This morning I sat on a park bench in the middle of Delancey Street watching people stream down the Williamsburg Bridge into Manhattan. I saw an amazing cross-section of New Yorkers. Many of them looked like seasoned bike riders, but many others looked like perhaps they had just grabbed whatever two-wheeled vehicle they could find just to get into work (the subway is still not running in Lower Manhattan and bus service is spotty).
What stands out for me as I look through the entire set is that these folks have style. They look good! (#47 is one of my favorites). And there's really no one in "bike clothes" — and thankfully, not one neon yellow jacket!
Have a look…[Read more…]