by Jonathan Maus (Publisher/Editor) on June 19th, 2012 at 9:52 am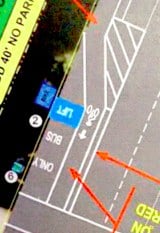 It's been an issue ever since the protected bike lane (a.k.a. cycle track) on SW Broadway went in: How to improve access for TriMet LIFT Paratransit Program vehicles that need direct access to the curb in order to drop off and pick up people with disabilities, while not blocking the flow of bike traffic.
In its current configuration, the bike lane on SW Broadway near Portland State University is curbside and the auto parking lane is in the street. This was done to create a protective buffer between people on bikes and people in moving auto traffic. The problem is, LIFT vehicles need to extend a ramp so that riders with wheelchairs can roll directly onto the sidewalk.
When the SW Broadway bikeway first opened, vans parked at the curb. Some people on bikes were perturbed by the blockage of the lane, which forced them to either stop and wait, or squeeze between the LIFT vehicles and parked cars. "TriMet has come under criticism by a vocal minority of cyclists for blocking the cycle track," reads a PSU document about the new plan. [Read more…]