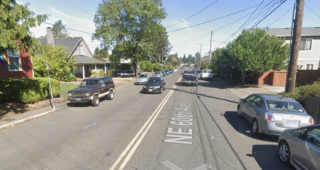 The Portland Bureau of Transportation is poised to install bike lanes on a key section of Northeast 60th Avenue and create a neighborhood greenway in the Rose City Park neighborhood south of Alameda Ridge.
The changes are coming as part of PBOT's $9.5 million 60th and Halsey Area Improvement Project. Last month, the city announced changes on the project website that funding cuts would delay some of the bike-related updates. The project website states that, "this project will no longer include bike improvements as part of the 60s Bikeway from SE Davis Street to NE Sacramento Street." That announcement led to speculation online that all the project's bike facilities would be cut.
I followed up with PBOT Communications Director John Brady for clarification, and it turns out the news isn't as bad as it appears.