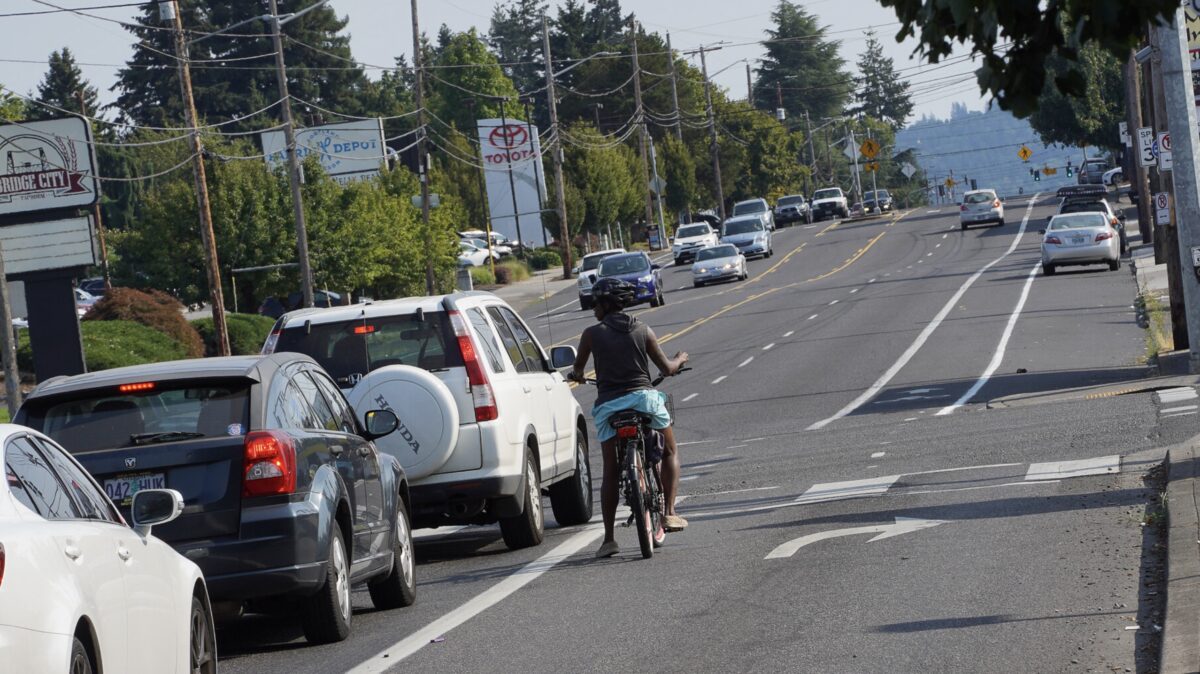 The Portland Bureau of Transportation released their annual deadly traffic crash report on Monday. According to their tally, 63 people died while using Portland roads in 2022 — equal to the 2021 amount. While the overall number is flat, 63 deaths is an 80% jump from the 35 total deaths Portland had in 2018 and it continues an extremely troubling rise in pedestrian fatalities that underscores how dangerous our streets have become and undermines our stated commitments to get serious about it.
The BikePortland tally is even worse. By cross-referencing PBOT's list and a list provided to us by the Portland Police Bureau, we counted 70 people who died on our streets last year (down from 73 in 2021).
Here are their names:
(Source: BikePortland – Note: Seven deaths not included on the city's tally are in blue. They include three suicides, two homicides, one MAX collision, and one unknown cause. I include these deaths because they illustrate the imminent threat posed by our system that's dominated by large, deadly vehicles and people who can too easily abuse them. Vulnerable road users are in green.)
Think about all those people for a moment. Not just who they were, but how many names are on that list. In 2008 — which happened to be the year we became the first large city in America to earn a "Platinum" designation from the League of American Bicyclists — we had 20 total traffic fatalities (with five pedestrian fatalities). In 2022, there were 31 people killed while walking alone.
When Portland leaders unanimously adopted our Vision Zero plan in 2015, they committed to the elimination of all traffic deaths by 2025. That leaves us less than three years to take back our streets and dramatically shift this trend. In fact, if you listen to the Portland city commissioner currently in charge of PBOT, Mingus Mapps, we have only two years left. That's because he thinks we can only reduce fatalities by 10% this year. Asked about Vision Zero on the City Cast PDX podcast last week Mapps said, "Vision Zero is alive and well. Obviously, in many ways. It's aspirational… It's going to take us a while to get to zero. I think we could bring that down by 10% this year through investments and better infrastructure, and the bringing back some enforcement."
The year 2025 was nowhere to be found in PBOT's press release yesterday. Instead of a clear-eyed embrace of the challenge and an acknowledgment that we are not meeting the moment, their statement read: PBOT urges the public to slow down, as speed, impairment keep pedestrian deaths at historic high level in Portland, across U.S. in 2022.
"This is a PR masterpiece that makes me disappointed and sad," wrote local traffic safety advocate Scott Kocher in an email with the press release he forwarded to me yesterday.
The Street Trust Executive Director Sarah Iannarone said in a statement yesterday that, "Telling people to 'slow down,' or calling for more policing when the PPB is decrying staffing shortages simply won't work. We need an innovative, intergovernmental, public health-informed approach if we're going to reverse this epidemic across our region and state."
I realize PBOT is doing a lot of good and important work around Vision Zero and this statement and report are just a relatively small piece of it. But given all the headlines this receives, it's an important opportunity to set course correct, lay out a vision, and set the right tone. Eight years into our Vision Zero initiative we deserve a candid and serious assessment of the problem and a bold plan to solve it. We are far beyond the point of making polite requests or excuses; but that seems to be a big part of the strategy we've chosen.
In their 2020 report, PBOT said the 54 people who were killed in traffic (then the highest total since 1996) was "unusual and tragic." In news interviews and official statements, PBOT urged us to not be alarmed because one year doesn't make a trend. Then in 2021, PBOT said homeless individuals, the Covid-19 pandemic, "and its tremendous impact on American life," were contributing factors in the (record) 63 traffic deaths. For 2022 we see a new boogeyman: darkness. Light conditions aren't mentioned in the previous two reports, but in this most recent one PBOT says, "74% of all traffic deaths occurred in darker conditions… Of pedestrian deaths, 93% occurred in darker conditions…"
Here are some other key takeaways from the latest report:
21 deaths occurred on state-owned streets (compared to 32 in 2021 and 20 in 2020)
67% of all deaths were in areas that score high on PBOT's equity matrix for low-incomes and high rates of residents that identify as people of color (compared to 76% in 2021 and 57% in 2020)
Houseless people made up 19% of traffic deaths in 2022 (compared to 33% in 2021)
17 people died in hit-and-run crashes in 2022 (compared to 14 in 2021 and 7 in 2020)
PBOT says another big part of the problem are people who drive too fast and/or drive under the influence of drugs and/or alcohol (with many of those hit-and-runs by impaired drivers). This problem of general lawlessness from more drivers than ever has come under sharper focus with new reporting out this week from The Oregonian that details how the Portland Police Bureau have "failed" to investigate and "alarming number" DUII cases, thus making the cases hard and/or impossible for the District Attorney's office to prosecute.
A memo obtained by The Oregonian shows that over a two-month span in 2021, PPB did not perform necessary blood draws or breath tests on 22% of people they pulled over for DUIIs. Of the 141 DUII arrests by five policing agencies who patrol the metro area, 25 of them were not fully investigated — and 24 of those were by the PPB.
This story should alarm Commissioner Mapps, who has said he wants to fund more police officers for traffic enforcement and has mentioned his concern about a lack of DUI arrests in both interviews I've done with him. Just last week he told me, "I would like drunk drivers to be pulled over and taken off the streets." Asked about The Oregonian story today, Commissioner Mapps said via email, "There have been breakdowns in every aspect of our public safety and criminal justice system over the last several years. As PBOT Commissioner, my highest priority is public safety on our streets, sidewalks, and transit system. I cannot do this alone; I will need the partnership of the police and the district attorney's office to intervene in impaired driving and hold people accountable under our laws."
Regardless of what anyone says or promises, the facts are clear: Our increasingly lawless streets, feckless and disjointed leadership, lack of progress on enforcement, and outdated road designs are no match for the scourge of dangerous streets and irresponsible people who use them.
---
— Download a PDF of the report here.