A trio of local sports radio show hosts has posted a video where they talk about how they'd like to seriously injure "jerk bikers." The two men in the video are Isaac Ropp and Jason "Big Suke" Scukanec, hosts of Primetime with Isaac & Suke, which the station bills as, "Portland's most popular sports talk show."
Employees of 1080 The Fan, a radio station owned by Entercom Communications Corp, posted the video in
a tweet last Thursday (September 5th). Apparently they are frustrated because people who ride on the Willamette Greenway path cut through the parking lot outside their building to connect to surface streets in the South Waterfront District.
Here's the tweet:

https://twitter.com/1080TheFAN/status/1169732695460499456
"Let's escalate the violence."
— Jason "Suke" Scukanec, 1080 The Fan
As you can hear, one of the talk show hosts refers to "jerk bikers" who have a problem "respecting… authority". Because they believe bicycle riders are going around barriers they've erected to keep them out of the parking lot, the men suggest various solutions. "I'm thinking attack animals: badgers, snakes, things of that nature," says one of them. "I'm thinking clothesline wire," says another, as he makes the throat-cutting gesture across his neck with his hand. "That was in the news other day, that was bad," one of them responded, a reference to a scary incident last month that happened on the same path just a few miles away. "Hey, then don't go through our parking lot," says another. "Yeah, we have insurance," says the man who suggested the idea.
"Let's escalate the violence," another man says toward the end of the clip.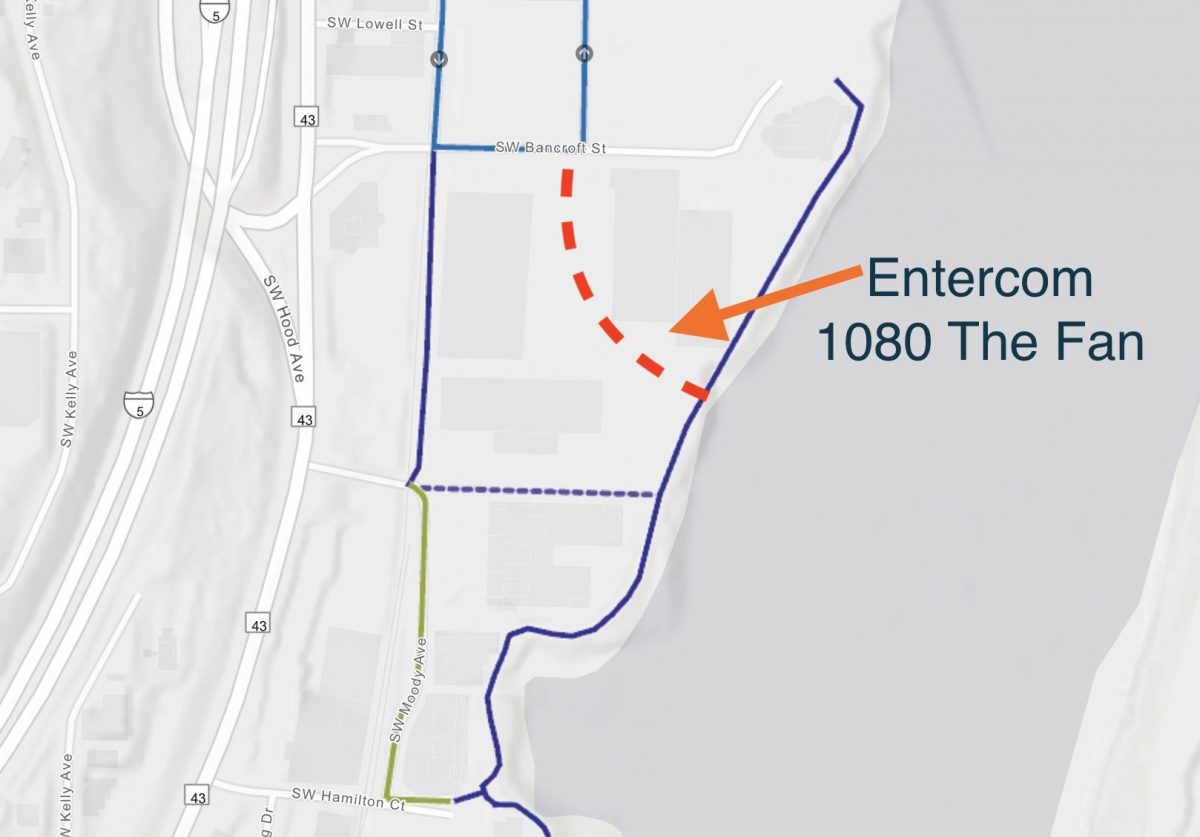 These statements are deplorable, especially when you consider many people hear them while driving in their cars just feet away from the extremely vulnerable road users that are being targeted. It's also worth noting that in addition to last month's incident, three men were arrested in 2018 for purposely stretching a wire across the I-205 bike path with the intent of hurting bicycle riders.
The location where the men are standing in the video is one block south of SW Bancroft Street, just east of the new Tesla Service Center (see maps). It's understandable why people would cut through the parking lot because the Willamette Greenway path ends just a few hundred yards north of there. Most people don't go through the lot and opt instead to travel east-west on one of the alleyways that connects to the SW Moody portion of the path that travel adjacent the rail tracks.
Portland Parks & Recreation is responsible for this path. I've contacted them to put the issue on their radar and spokesperson Mark Ross says he'll send a staff person out to investigate the situation. Meanwhile, after we posted something about this on Twitter earlier today, some people have already began to contact the station with their concerns.
We hope these guys will apologize and remove their video from Twitter. People are angry enough these days and don't need any encouragement for road rage. Words matter and we cannot allow this type of casual hatred toward bicycle riders to go unnoticed or become normalized.
UPDATE, 2:44pm: Jason Scukanec (on left in video) just posted a statement on Twitter:
For today's minute let's all just get along shall we. Much love to bikers, cars, scooters, pogo sticks, roller blades and all other forms of transportation pic.twitter.com/Jph348wyXD

— 1080 The FAN (@1080TheFAN) September 10, 2019
— Jonathan Maus: (503) 706-8804, @jonathan_maus on Twitter and jonathan@bikeportland.org
Never miss a story. Sign-up for the daily BP Headlines email.
BikePortland needs your support.