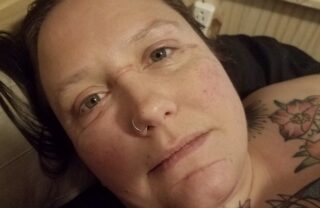 Last week the man accused of tying a string across the I-205 bike path in order to hurt someone was sentenced to 20 hours of community service. When we shared that on Twitter, some of our followers felt the consequences should have been more severe.
After all, the string caused several lacerations to the face and neck of Montavilla resident Carlene Ostedegaard, who was biking home from work when she became ensared in the trap.
Today the Multnomah County District Attorney's Office announced that it was Ms. Ostedegaard's request that the people who caused her injuries were not jailed.
The DA's office said the parties in the case have reached a pretrial resolution. 23-year-old Raven Jones was the "primary actor" in the incident and pleaded to one count of assault in the third degree, a Class C felony. Here's more from the DA's office:


Multnomah County Circuit Court Judge Katharine von Ter Stegge put Jones on 36 months of formal probation, ordered that she conduct 40 hours of community service, undergo an alcohol evaluation and perform any recommended treatment, write the victim an apology letter within two weeks, and continue to work with a homeless outreach program.
The other person involved in the incident, 27-year-old Antonio Tolman-Duran, has received 12 months probation and must perform 20 hours of community service. Tolman-Duran pleaded no contest to one count of recklessly endangering another person.
"From the onset of this case, the victim expressed her desire that the defendants not be sent to jail and that she receive an apology letter. We are fortunate that the injuries in this case were not more serious," said Deputy District Attorney Todd Jackson in statement. "These defendants purposefully took string, tied it tightly on both ends across a multi-use path near I-205 and Southeast Division Street."
— Jonathan Maus: (503) 706-8804, @jonathan_maus on Twitter and jonathan@bikeportland.org
Never miss a story. Sign-up for the daily BP Headlines email.
BikePortland needs your support.