The annual reveal party for the 31st annual Cycle Oregon routes was held at the Portland Art Museum tonight. Hundreds of fans of the rides gathered to hear which rural communities they'll be sleeping in and riding through if they're lucky enough to participate in the weeklong "Classic", the two-day "Gravel", or the one-day "Joyride".
Beyond great rides, Cycle Oregon's nonprofit mission is to "transform individuals and communities through bicycling." Since their founding in 1988 the Cycle Oregon Fund (where ride proceeds are deposited) has awarded more than 300 grants worth $2.2 million to small towns throughout our state. And the support of rural towns doesn't end there. Each year Cycle Oregon provides about $175,000 to host towns in exchange for fields to sleep in, volunteers to help set up tents, and so on. The organization also hires local event organizers and service providers, and buys food from local farmers. And the riders themselves spend, on average, $250 in local communities during the weeklong Classic ride.
And there's something about doing this ride that you can't put a price on: getting to know what rural life — and the people who live it — are like. A lot is said about the urban/rural divide in Oregon and this bike ride is a relatively small, yet powerful way to help build bridges.
I wasn't at the kickoff event this year, but I've got all the details for the three big events.
Here's what's in store…
Classic (September 7-14)
For 2019, Cycle Oregon's flagship, seven-day ride lives up to its 'Classic' name with its return to Central Oregon, where cyclists will be immersed in some of the state's most iconic and stunning natural landscapes. The loop, which is 430 miles, plus an additional 60-mile option, includes the majestic Cascade Mountains, three of the country's most scenic rivers and Crater Lake — the sapphire jewel of Oregon's only national park.

Total distance: 490 miles (without Crater Lake option: 430.3 miles) Total elevation gain: 30,656 feet (without Crater Lake option: 24,186 feet
Gravel (May 17-19)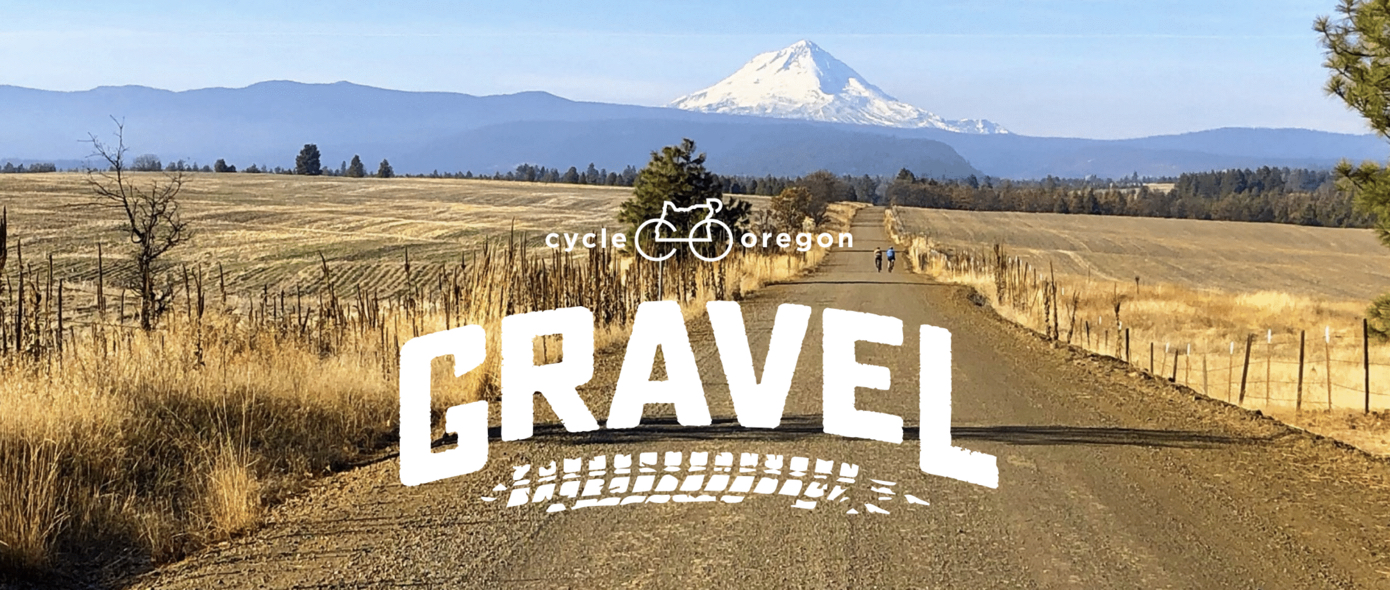 Now in its second year, Cycle Oregon's GRAVEL ride lets cyclists experience the challenges and scenic beauty of gravel road riding while being fully supported, Cycle Oregonstyle. This year's ride, which is limited to just 500 riders, is based out of the historic farming town of Dufur, Oregon, in the sunny eastern Columbia River Gorge National Scenic Area. The route features a combination of gravel and paved roads to explore the stunning expanses of high prairie and the forested foothills of Mount Hood. Riders will get views of wildflowers, wheat fields, and Mount Hood and Mount Adams around nearly every corner.

Total distance day 1: Long: 65.3 miles (47% gravel, 53% pavement), 5,061 feet of elevation gain – Short: 31.8 miles (67% gravel, 33% pavement), 2,140 feet of elevation gain

Total distance day 2: Long: 63 miles (53% gravel, 47% pavement), 5,216 feet of elevation gain – Short: 33.2 miles (61% gravel, 39% pavement), 3,118 feet of elevation gain
Joyride (June 22)
Cycle Oregon's one-day celebration of women and bikes is heading to Independence, Oregon, in the heart of the scenic Willamette Valley. Women cyclists of all ages and all ranges of experience can choose among three different fully supported rides (18, 40 and 64 miles) amongst rolling hills, orchards, vineyards and wide-open farmlands—and return to delicious, locally sourced food and libations, plus live bands. New for 2019 is the option to add a gravel road section to the medium and long rides.

Ride stats:
Short: 17.8 miles (188 feet of elevation gain)
Medium: 39.9 miles (1,080 feet of elevation gain)
Medium with gravel option: 36.3 miles (1,013 feet of elevation gain), 6 miles of gravel road
Long: 63.6 miles (2,113 feet of elevation gain)
Long with gravel option: 63.0 miles (2,213 feet of elevation gain), 6.9 miles of gravel road
This looks like a great line-up. Fingers crossed that the government is open in September. If not, the riding around Crater Lake could really stink (it's a National Park and it was closed earlier this year due in part to surplus human waste).
Is Cycle Oregon in your plans this year?
— Jonathan Maus: (503) 706-8804, @jonathan_maus on Twitter and jonathan@bikeportland.org
Never miss a story. Sign-up for the daily BP Headlines email.
BikePortland needs your support.