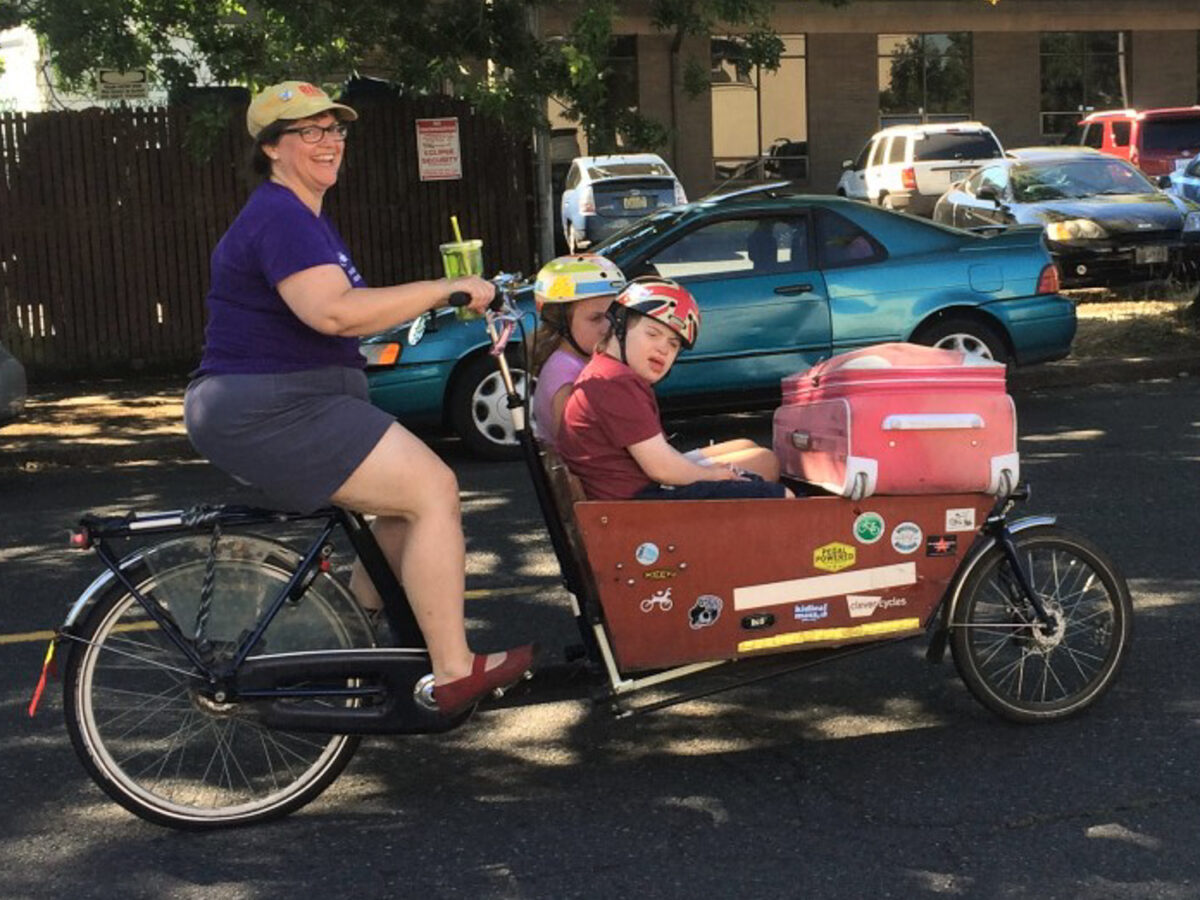 This week on the column we're going to share a profile of one of our readers.
Kathleen Youell has been a fixture in the Portland family biking scene for a long time. I met her seven years ago — three days after I got my first cargo bike — and have been riding with her ever since. I caught up with her recently to learn more about her family and how cycling fits into it.


Our Family Biking column is sponsored by Clever Cycles.
➤ Read past entries here.
➤ Tell me a little about yourself and your family.
Myself, my husband Matt Youell, and my kids Evan and Emily are all native Sacramentans. We left Sacramento (California) in 2008 because we didn't like the hot weather and wanted to strike out on our own. Part of our plan included being carfree, but we had no clue about biking with kids, or the Portland bike culture. We moved to Hillsboro thinking that we'd ditch the car and walk and take transit a lot. We soon found out that a MAX ride to the zoo was an hour and the monthly playgroup for kids with Down syndrome and their siblings was two hours away. We started looking for a place to live in Portland. We found one about the same time we found a used bakfiets [a type of cargo bike] on Craigslist. That was around April 2011.

My introduction to family biking was via Twitter where I "met" Sarah Gilbert [@sarahgilbert]. The idea that you could carry your kids on your bike blew my mind. I was so excited to learn more! We came to the first "Fiets of Parenthood" event held at Clever Cycles and gawked at all the bikes owned by people — many of whom are now my friends! I test-rode a bakfiets and bought a helmet that day.
➤ Tell me about your bike.
Our first family bike was a Bakfiets.nl. I was the third owner and it was in one of the first containers that Clever Cycles imported from The Netherlands. I loved that bike so much and put stickers all over it because I knew that I would have it forever. I even told strangers that asked about it that I planned to be buried in it. Sadly, the kids grew too big (and my knees too old) for me to cart them around in it. We ended up selling it to a family with a baby which is my only consolation. I'm sure my bakfiets (I never named it) is happier with a baby to carry around.

Learning to haul a full cart of groceries without a big box to toss it all in.
(Photo: Kathleen Youell)

In October of 2016 I got Veronica, my Bionx'd Haul-a-Day [Bionx is a now defunct maker of electric-assist kits and the Haul-a-Day is made by Bike Friday]. I love her! She still makes me smile when I ride (like the bakfiets did) and that's the point. I can now go faster than 4 mph and ride farther. I've had to learn a lot about loading a bike that I didn't need to know with that giant box on the front of my bike.
➤ Is there something you wish you had known before you took your first pedal stroke as a family biker that would have made things easier?
Stay away from most of the city's designated routes! Door zone bike lanes and hills are not your friend. Seriously, can the people at PBOT that designate these routes read a topographical map? Salmon? Harrison? Are you kidding me? There are flat ways around all the hills and your kids will thank you when you take the long, flat way because you will not be out of patience mid-ride.
➤ Tell me about a typical ride you take in Portland.
School and errands. I ride along side my daughter to school and back everyday. I ride to the grocery store and the library and to knitting and to coffeeshops to meet my friend and write. I take quiet residential streets and cross the big, scary streets at lights, preferably where there's a green box so that the oncoming traffic knows I'm there. Occasionally I scream at a driver that I have two kids that I'd like to live to get home to, but that's rare. Usually I notice other people on bikes and on foot are smiling at me and realize I have a huge grin on my face. I'm like that woman in the Portlandia sketch that is just so damn happy to be riding around (sans getting her skirt caught in her chain because I have a chain guard).
➤ Tell me about an especially memorable ride in Portland.
There have been so many! I led a Kidical Mass to the Fiets of Parenthood in 2013 (in front of the Art Museum) that was so big. I've looked all over and can't find a photo of us arriving at the museum. I do remember seeing Martina Fahrner and Leah Treat standing together as we rolled in, both thrilled at our huge group of families that were riding together.

In a tie with that ride for first place is the only time I've done the WNBR [World Naked Bike Ride]. It changed me personally for the better to be in a group of people (as bare as I dared with a kidney stone and on my period). I felt safe and more ok with myself than I ever had. It has changed what I'm willing to wear while I ride and what I'm willing to wear in general.
➤ If there was one piece of bike infrastructure (street, intersection, bike rack, etc) you use regularly that you could change to improve your life, what would it be?
Contra-flow bike lanes/one-way streets in front of all schools! My kids have only attended three schools in Portland, but all of those have worked hard to keep traffic flowing safety in front of schools at drop-off and pick-up. We get messages from the principals asking parents to drive in one direction around the school so why can't PBOT get with the program? The long block of SE 34th between Division and Clinton is so much better than it was before; I can just imagine how much better biking and walking to school would be without parents and random cut-through drivers going in the other direction at drop-off and pick-up.
➤ Have you biked in other cities and how did it compare?
Only Seattle since our change to a carfree family in 2009. I biked in Sacramento as a kid and that's why I'm astounded that people like Elle Steele (@tinyhelmets) can do what my family does here in Portland while living in Sacramento. As for riding in Seattle, I went on a small group ride my first visit and a Mother's Day Kidical Mass ride the second visit. I found the people very friendly and helpful (bikey people are the best people!) and the loaner Bromptons fun to ride. I remember hills (OMG the hills), a protected bike lane in front of my hotel, and a tunnel next to a highway that was beautifully painted and so hidden that I missed it and rode in circles for 5 minutes trying to find the entrance. Classic tourist. I don't think I can really compare any of it to my riding in Portland where I can trust my instincts if I want to avoid a hill and leave the designated bike route. Our gridded streets are such a blessing!
➤ What's your best piece of advice to pass along to BikePortland readers?
To the general readership, please respect parents riding next to their children. I've had people ride between us, pass us on the right, and other dangerous things. My daughter has ridden her own bike for less than a year after over six years of sitting in front of me while I screamed at bad behavior of drivers. Stop freaking us out and teaching her bad behavior!

To family bikers, current or interested but concerned, there are lots of ways to connect with us online and in real life. Come to a Kidical Mass ride! Find a group on Facebook (PDX Cargo Bike Gang, Seattle Family Biking, or San Francisco Family Biking are all good ones) and ask questions. Don't be afraid to vent your frustrations. Talk about routes and how to handle tantrums (children and/or drivers). There's nothing more fun that getting to talk about family biking with other people that aren't concerned that you shouldn't be biking with children or who want to have The Helmet Discussion.
➤ Do you have a social media presence you'd like to share?
I do! Twitter (@kyouell) and my blog (www.portlandize.com) or the PDX Cargo Bike Gang on Facebook are where you'll most frequently find me.
---
Thank you for sharing your story Kathleen!
And thanks to you all for reading. We're always looking for people to profile. Get in touch if it sounds like fun to you. And as always, feel free ask questions in the comments below or email me your story ideas and insights at madidotcom [at] gmail [dot] com.
— Madi Carlson, @familyride on Instagram and Twitter
Browse past Family Biking posts here.
Get this and other BikePortland posts delivered directly to your inbox.
BikePortland needs your support.