We love biking to water in the summer — whether it's to a beach, lake, river, spray park, or swimming pool. Summer days are long and free activities that hold the kids' attention for long periods of time are my favorites. I can't be the only parent who happily hangs out in the shade while my kids dig in the sand or throw rocks into water for hours on end, with the occasional break from my book to play catch or help with sandcastle building.

Our Family Biking column is sponsored by Clever Cycles.
➤ Read past entries here.
The main things I pack for the beach are snacks, swimsuits, towels, beach toys, and shade (if we're not heading to a site with its own shade). I strive to demonstrate family biking as fun and easily replicated, but I also tend to fill all available storage space with stuff. Once on our way to the beach a couple flagged us down to ask if we were at the tail end of a cross-country bike tour. Beach stuff is bulky but light so it looks impressive, but is still easy to lug around.
Whether your plans call for a quick jaunt to your local park's splash pad, the new Poet's Beach downtown, or a more ambitious destination like Broughton Beach on the Columbia River, here are some tips to help make the day go smoother.

➤ Shade
My favorite beach accessory is the bulkiest: my pop up shade tent. It doesn't have a bottom layer so I also bring a picnic blanket. It's easiest to carry by cargo bike, and was most easiest when I had a toddler seat on the back of my cargo bike to attach it to. But I've strapped it to my back and even lashed it to our trailer bike. I don't last very long at the beach if I'm not in the shade and it's great for kids to snack in and get a break from the sun.
➤ Beach toys
Sticks and rocks at the beach make great toys if you head over empty handed. But inflatable beach toys are tiny when uninflated and look awesome on your bike (or body) when blown up. Bucket straps and plastic truck windows are just asking to be threaded with a bungee cord and dangled from the outside of a pannier or kid seat. Smaller toys like scoops and sand molds (and we tend to bring lots of "decoy scoops" to share with new beach friends) go in bags or panniers. Pool noodles are fairly easy to lash to various parts of the bike and many people already use them daily on their bikes as sleep rolls in front of toddlers in front seats or sticking out to the side of a rear rack as a three-feet indicators.
➤ Swimsuits
It pays to always have swimsuits along in the summer. The other day we went to a friend's house just to play with guinea pigs, but then ended up lunching at a pool. Unfortunately I hadn't yet made this always-bring-swimsuits rule so we hit a playground while our friends stayed to swim. Furthermore, if you know you're headed to the beach you may as well bike over in swimsuits to save time and save yourself an argument with a kid who thinks he doesn't want to splash around — because he's going to end up splashing around in his regular clothes. Biking in swimsuits is also good if you have a kid who likes to pour water (or even worse, juice) over his head when he gets hot, as well as for protecting clothing when eating sticky, drippy ice pops.
Biking home in a damp swimsuit is a good way to beat the heat. For pedaling kids this might only work for short distances lest they experience chafing, but passengers are usually comfortable hanging out in swimwear all day long.
I transport our swimsuits (or rather, our backup clothes when we go out in swimwear) in a wet bag. I bought mine from a cloth diapering company years ago and it's great for keeping wet and sandy swimsuits away from other stuff, plus mine has a snapping handle so I can attach it to various places on my bike. Plain old plastic bags work great for this, too, of course, but might not last 11 years (and counting).

➤ Snacks
I have to admit I don't have advice on the best sand-resistant snacks. I hate to waste drinking water to wash hands so I've been know to feed my kids berries and chips one by one with my own clean hands.
When the beach is far from home it's nice to break up the ride back with a stop for food. Food truck pods are always excellent for families on bikes since there's usually lots of bike parking within sight of the tables, a plethora of choices for food, and it's more acceptable to be sandy and barefoot than in a traditional food establishment.
➤ No, you don't need a cargo bike
While my cargo bike makes it easy to bring everything we could possibly need for a day at the beach, it's definitely possible to have a big beach day with a little bike.
Pictured is a trip to the wading pool when my kids were three and one. My brown picnic blanket and a canvas bag of snacks hang on the windscreen, my three-year old is carrying two big toys, the backpack is crammed full of our swim stuff, and my ring sling baby carrier is draped over my shoulder.
➤ Where to hit the beach
I love this map from the Oregonian, The best beaches in Portland: 12 places to get sun in the city:
It pairs well with Portland Parks & Recreation's Swimming in the Willamette and Columbia Rivers safety tips and Check the Rec bacteria sampling.
Our last beach trip was to Poet's Beach, a fairly central location — with shade! I locked our bikes at the rack above the beach (also in the shade!) but we sat near a man who wheeled his cargo bike all the way down. My kids loved reading the poetry on the rocks lining the walkway…though I would have preferred to rush straight for the shade.
For a great beach trip farther north, check out BikePortland's Kelley Point Park trip from last summer.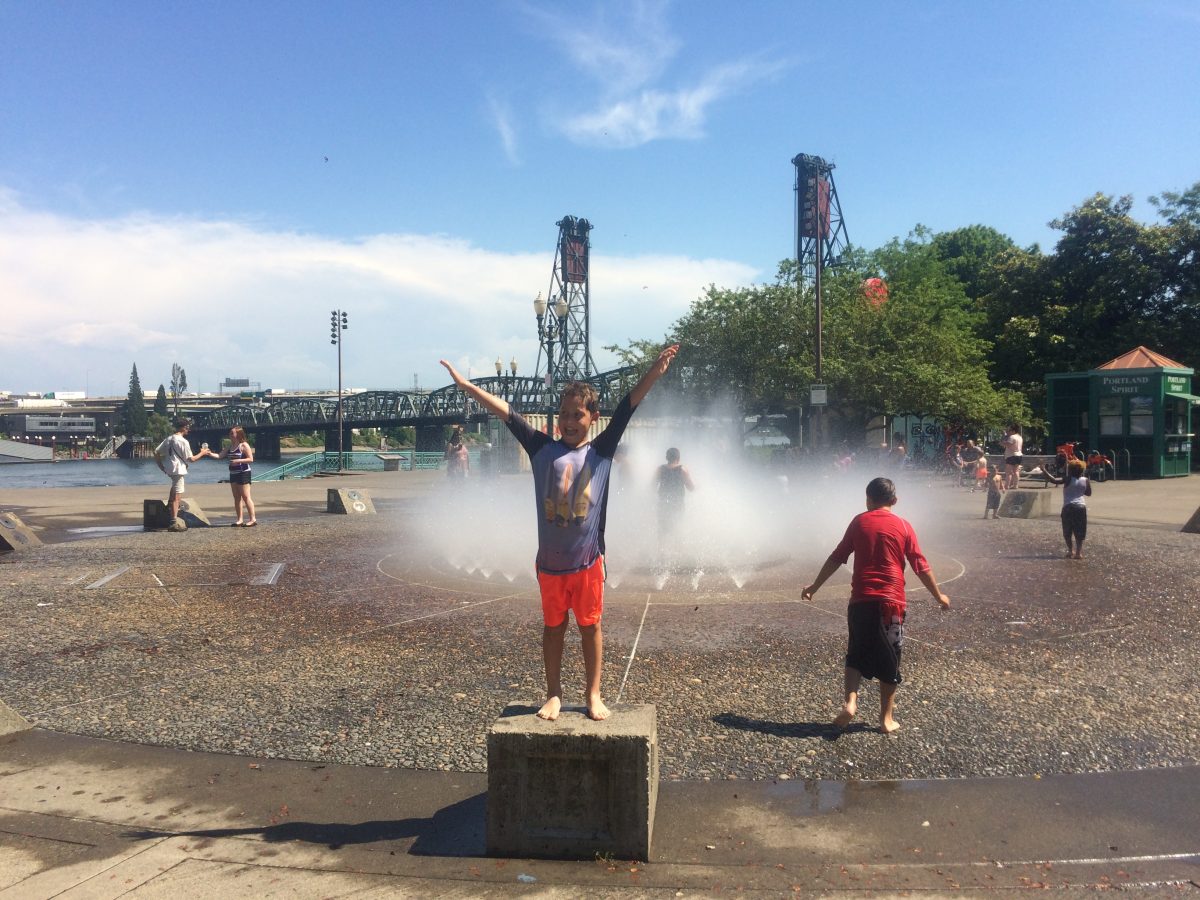 ➤ Other water
The beach isn't the only place to enjoy summer in a swimsuit. All area wading pools were closed in 2010, much to the dismay of their toddler fans, but spray parks are pretty cool, too, and they appeal to a broader age range (not to mention they're cheaper and safer). Find them all at Portland Parks & Recreation's Interactive Fountains and Splash Pads. Jamison Park and Peninsula Park Fountain are the most wading pool-esque of the bunch.
After our recent visit to Poet's Beach we went by Salmon Springs Fountain for even more fun (so thought the kids) and for preliminary sand removal (so thought I).
Do you have a favorite splashing spot or know of places not listed on the beach map and splash pad list? I'd love to learn about them! Bonus points if you provide information about closest drinking fountains and restrooms.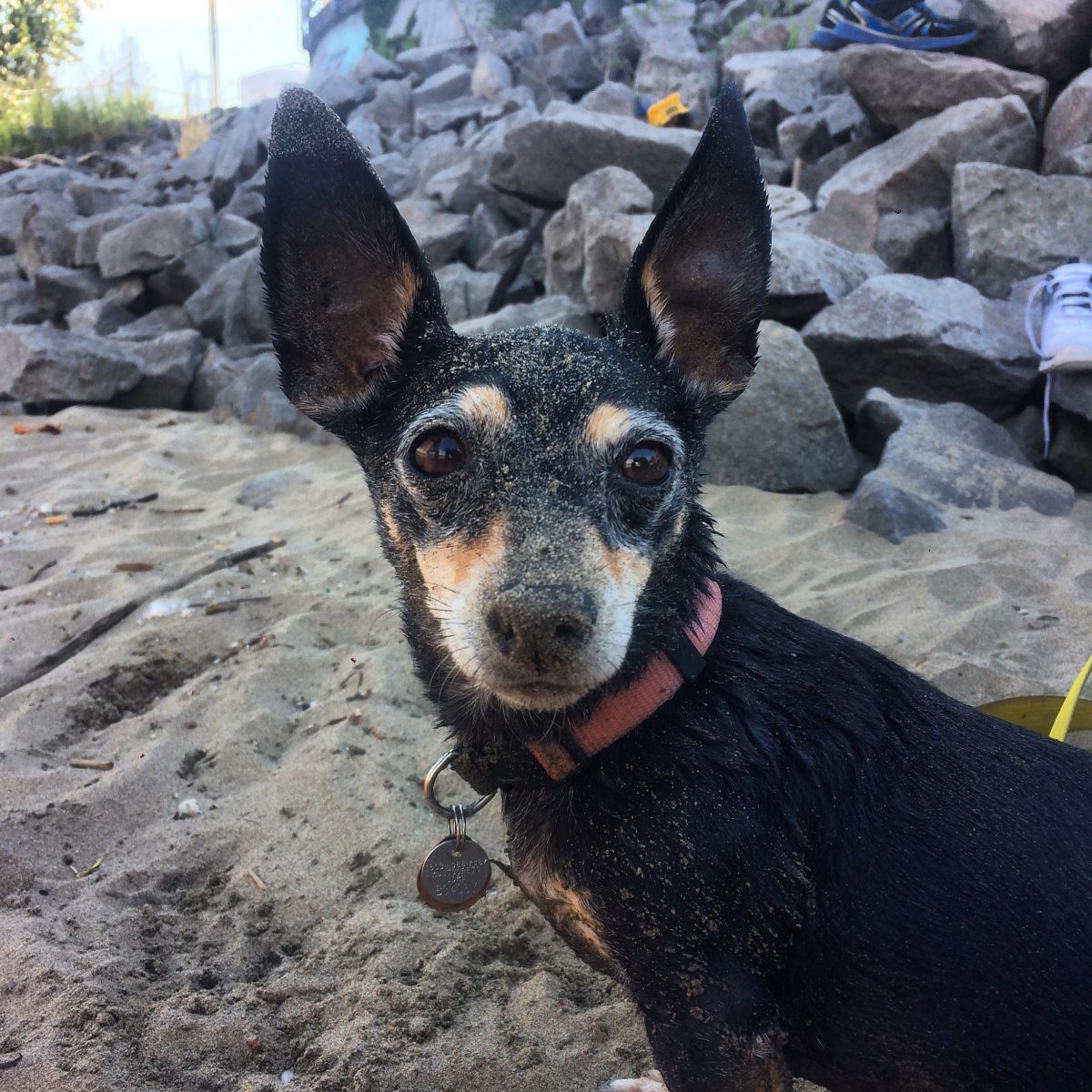 Thanks for reading. Feel free ask questions in the comments below or email me your story ideas and insights at madidotcom [at] gmail [dot] com.
— Madi Carlson, @familyride on Instagram and Twitter
Browse past Family Biking posts here.
Get this and other BikePortland posts delivered directly to your inbox.
BikePortland needs your support.