The town of Burns in Harney County is one of the most remote places in Oregon. At over 10,000 square miles, you could fit 21 Multnomah Counties inside of it. And with a land mass about the size of Massachusetts, Harney County has less than one resident per square mile.

But along with junipers, pines and pristine meadows, the county boasts an abundance of unpaved roads. 20,000 miles of them, locals say. And it's a resource they're ready to tap.
This past weekend I drove five hours southeast of Portland for the Skull 120. The firm memories I gained in just a short trip speaks to the stature of the people and beauty of the places I experienced.
Event organizers bill it as the "gnarliest" gravel race (or ride, depending on how you want to approach it) in America. The event started small last year with just 22 people at the starting line. This year there were 106 eager to venture out on the 30, 60, or 120-mile routes.
But before Smokey the Bear shot off the starting gun (seriously), riders from far and wide mixed with locals on Burns' main street.
Dave Seamans owns Boise Bike Wrench and was hired as mechanical support. Burns doesn't have a bike shop (yet), so Seamans drives his truck full of parts and tools 180 miles to be there. It's not the first time he's made a Burns house-call. A local hospital hired him to work on their employees' bikes. "I've tuned up about 550 bikes in Burns in the past two years," he said proudly as we chatted on the sidewalk of Broadway Avenue, Burns' main street.
As riders filtered in to the Harney County Chamber of Commerce to pick up race packets, I also met Richard Roy, a district manager for the local BLM office. Roy is an interesting character who also owns Steens Mountain Brewing and is passionate about lacrosse. He make no bones about his vision for gravel riding in Harney County. It was Roy, along with US Forest Service visitor services staffer Cameron Sanders, who had banners made for the event emblazoned with "Home of the Best Gravel Cycling in America."
Those are big words, I mentioned to him. To which I figured he'd sheepishly apologize for being so bold. But no. He doubled-down. "Oh yeah, we're going to trademark that slogan," he said. I don't think he was joking.
Roy is dead serious about using cycling to spur economic development. He's tired of watching trucks loaded with bikes drive through Burns en route to riding meccas of Boise and Bend on either side of the struggling town. Roy sees the Skull event as a harbinger of bicycle tourism to come. His vision includes bike companies and young people moving to Burns ("You can buy a nice house for $50,000," he suggested). But I wouldn't worry about this becoming another Hood River or Bend any time soon. As a contrast to those cities, Roy wanted me to know that, "We are not boutique out here."
Beyond a bike ride, the Skull is a celebration of public lands, in a place where the very idea of land ownership has a controversial recent history (the starting line is just 30 miles north of the now infamous Malheur National Wildlife Refuge that was taken over by anti-government activists in 2016). There's no for-profit promoter behind the Skull, it was created as a tourism and economic development initiative by the U.S. Forest Service, Bureau of Land Management, Harney County Chamber of Commerce, and a handful of other partners including founding sponsor REN Cycles.
About 20 percent of the Skull 120 route's miles were on private land, much of owned by The Hotchkiss Company, a cattle ranch owned by the same family since 1888. Current owners Mark and Susan Doverspike hosted a dinner in their farmhouse yard on Friday night.
Mark and Susan are 4th generation ranchers. The fifth and sixth generation were also at the dinner. Before we ate, Susan reminded us that we'd be cycling over pieces of their land. "Public lands are for multiple uses," she said, "It's all compatible." She was clearly making a pitch for private ranchers who use public lands to raise cattle. "I think our sixth generation is testimony that we've taken care of the land," she added. The bike riders at dinner and the Doverspike's share at least one thing in common: A love of the land and a dedication to treating it well. Mark Doverspike beamed as he explained to me that the main pasture used by their cattle relies solely on natural irrigation. "That pasture has never had a plow in it," he said proudly.
Donald Doverspike, who also works on the ranch, chatted with us while serving up healthy portions of tri-tip. "We use your land, you use our land," he said. "So we figured, let's get together and talk about it." Compared to an armed occupation, this was a much more diplomatic way to raise awareness about the issue of private cattle on public lands.
But we weren't there to just talk. We were there to ride. And what a ride it was.
Equal parts challenging and beautiful, the long route was 126 miles and nearly 11,000 feet of climbing. And that doesn't even begin to tell the tale. A whopping 80 percent was unpaved. With lots of big, sharp rocks, narrow double-tracks, and even some cow paths, there were scant free miles. You could never really relax. When you did get something smooth, the wind would be blowing at or across you. Or in the case of a spectacular stretch of red cinder road, its sandy softness sapped the precious power from your legs. Yet unlike other epic rides I've done, I was never bored or miserable. I spent just under 10 hours on my saddle in near constant amazement at the diversity of terrain and magnificence of the pristine environments we rolled through.
The roads were white, all shades of brown, red, and even green where we rode across meadows on what seemed to be nothing more than cattle cut-throughs.
Burns is about 4,100 feet above sea level. We reached just over 7,200 feet at our highest point atop of Snow Mountain, where we could see a 360-degree panorama of forests, valleys and sky. Temperatures swung over 40 degrees throughout the day, from the low 40s to mid 80s. We bumped and grinded by vast praries, remote lakes, hidden canyons, staggering viewpoints, and even a few water crossings where staying dry was not an option. There was even a thunderstorm that gave some riders a shower of hail. I talked to one guy who didn't have a jacket and abandoned after shivers overtook him.
It all wrapped up in fine fashion with an after-party at the lovingly restored Central Hotel. First established in 1929, Jen and Forrest Keady and their children spent two years bringing it back to life (thanks in part to a $100,000 state grant for main street revitalization). The hotel now boasts very comfortable rooms with locally crafted fixtures and reclaimed wood, a dining area and patio. Jen Keady says 1188 Brewing is all set to move in downstairs. It's a wonderful place in a great location and I highly recommend giving them a call when you plan your trip.
The people, hospitality, and natural assets are all in place for Burns to become a buzzing basecamp for cycling adventures. Will it become the Oakridge of gravel riding? Don't dismiss the notion until you've experienced it yourself.
See you on the Skull next year. It's already on my calendar.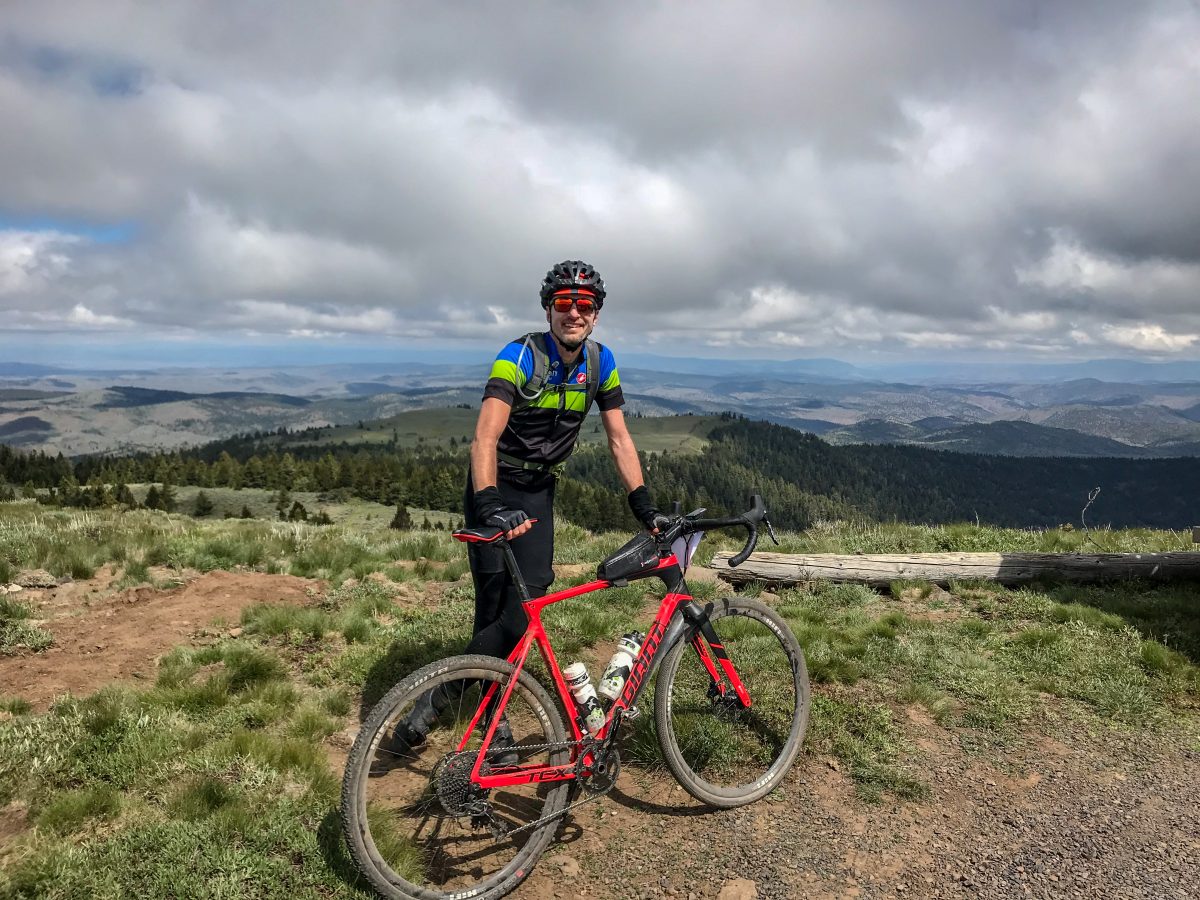 Check out the full route details at RideWithGPS.com
UPDATE, 6/20: If you want a sense of how long it took to complete the course, here are results for the 120 route. Looks like there were 55 entrants and just 28 finishers. The top 5 ranged from 8 hours 30 minutes, to nearly 10 hours. The slowest riders all spent over 14 hours in the saddle.
— Jonathan Maus: (503) 706-8804, @jonathan_maus on Twitter and jonathan@bikeportland.org
Never miss a story. Sign-up for the daily BP Headlines email.
BikePortland needs your support.