It's the essence of racing: Line up next to your competition; point your bike down an open track; pedal as fast as you can; winner moves on to the next heat. No variables. No crowds. No excuses. It's simple, but it's far from boring. And it's a tough workout.
The quarter-mile has always been a staple of auto racing. Now Portland has a drag race series for cycling.

It's the Monday Night Sprint Series, a new format brought to you by promoter Matt Barney and his crew — the same folks that took over the circuit race/criterium series at Portland International Raceway this spring. Barney has responded to grumblings in the community that the local road racing scene has become stale. Some people think Strava segments, gravel riding, cyclocross and off-road short track have stolen thunder from the more traditional road racing discipline.
But if the vibe I saw and felt Monday night is any indication, these bicycle drag races could go a long way toward changing that perception.
It was a perfect night. Mid 70s and clear skies. There were only a few dozen competitors and a handful of spectators. Breathless racers rolled by, slowing to give high-fives to friends and competitors. Two officials loomed over the checker-painted finish line with clipboards and walkie-talkies to coordinate with Barney who was a quarter-mile away at the start line.
The heats featured four racers at a time, spread out across PIR's smooth pavement with plenty of room to operate.
On his orders, the riders — who began from a dead-stop — took off. All that could be heard were a few grunts and then the loud, muted clicking sound of chains moving down cassettes as riders searched for just the right gear.
Top speed is rumored to be about 36 mph. Averaged out, that means the quarter-mile times were about 40 seconds or so.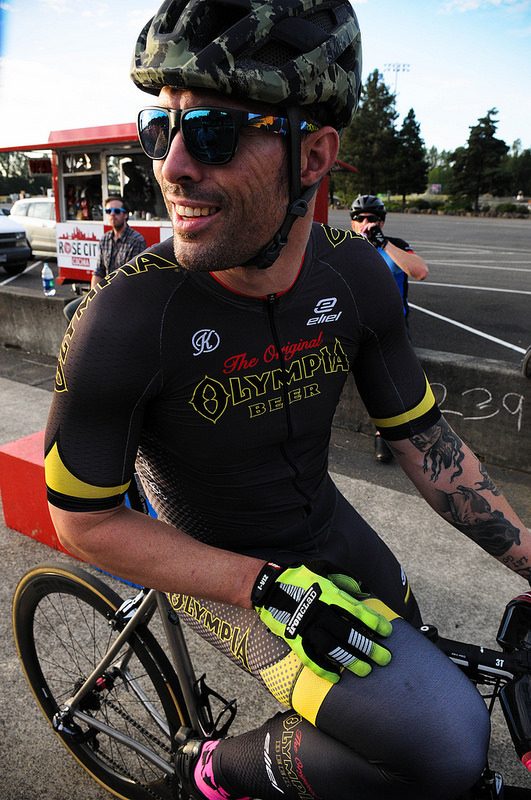 Jack Lindquist won the men's competition. He's no stranger to the format, having won a similar contest in Los Angeles organized by the famed Wolfpack Hustle riding club. "It's all about getting a good start," he told me after stepping down from the podium at the end of the night. With a good jump from the line he can get up to top speed faster and get a gap that's too hard to close in such a short distance. Lindquist said he loves the format because, "It's like a crit finish, without the rest of the crit." For sprinters that's like eating dessert without having to eat a sensible dinner first.
Lindquist shared the podium Monday night with Felipe Nystrom and Colin Gibson. The three also shared the cash payout. Nystrom is no stranger to the podium. "I'm going to have to start declaring you on my taxes," he quipped to Barney as he fingered the bills in his hand.
I didn't show up in time for the women's heats; but I did meet professional racer Ivy Audrain. After dispatching her female competition, she raced against the men. For her this was just a training exercise. (She ended up winning her final heat in the men's category, placing 9th overall.) Another woman I met (I forgot to get her name) was new to Portland. She moved here from Boston several months ago. After joining the Sorella Forte women's team ("Mostly because they're just really nice," she said) she wanted to try the sprints. I didn't ask how she did, but her incessant smile told me everything I needed to know.
As the photos attest, everyone was smiling Monday night. The vibe was fun and welcoming — not the usual scene for most road events.
Barney's approach to the event is decidedly laid-back. He said there's been some skepticism to the format, but once people try it, they love it. "It's feels refreshing to me to know that we can race hard and be competitive with a bare-bones street approach. No camera at the finish line, just two officials calling it as they see it and all you have to do as a racer is go hard on the whistle. Simple as that."
There's just one race left in this series. Check it out on August 28th. See RaceMondayNight.com for more.
— Jonathan Maus: (503) 706-8804, @jonathan_maus on Twitter and jonathan@bikeportland.org
Never miss a story. Sign-up for the daily BP Headlines email.
BikePortland needs your support.
If you have questions or feedback about this site or my work, feel free to contact me at @jonathan_maus on Twitter, via email at maus.jonathan@gmail.com, or phone/text at 503-706-8804. Also, if you read and appreciate this site, please become a supporter.