Ever since Better Block PDX popped onto the scene in 2013, this all-volunteer group of tactical urbanists has captured our imagination. Their daring and creative street transformation projects have had a real impact on how we experience transportation. And more importantly, their projects have influenced hearts and minds of thousands of Portlanders, including many of whom work at 1221 SW Fourth Avenue.
Long before Better Naito became a City Hall darling, the idea was hatched by Better Block volunteers over beers and pizza. In years past, the group would choose its projects based on an internal and informal process.
Now for the first time they've opened up the decision-making to the public. If you have an idea for how to make a section of streetscape better, Better Block wants to hear from you.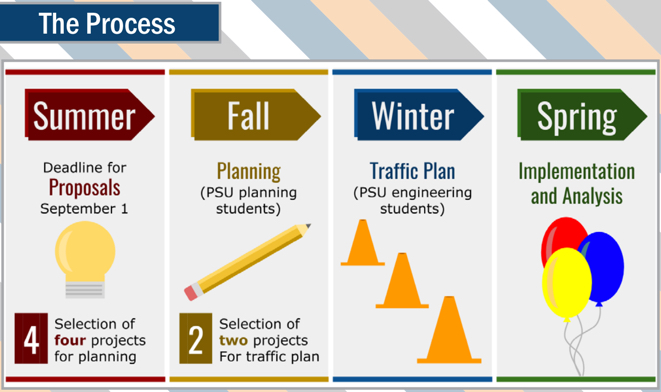 Here's more from the call for proposals:
"Better Block PDX is requesting proposals for 'pop-up' projects from community organizations. This is an opportunity to partner with transportation planning and engineering professionals and students to demonstrate what a street or public spaces can be when they are designed for pedestrians and cyclists."
A 'pop-up' project is one that is installed to create a real-life demonstration of what's possible. They usually last only a few days; but the idea is that the ideas they inspire are permanent. Projects can be things like traffic calming solutions, carfree public plazas, DIY crosswalks and bikeways, play streets, and much more. If you can dream it, you can probably do it.
The deadline for proposals is September 1st, so now is the time to ask your neighbors about your idea. Once you've got something, fill out the online form and wait to hear back from the Better Block team. They plan on choosing four larger-scale projects that will be assigned to a team of Portland State University students. Two of those four projects will move forward to full implementation and all proposals will get a follow-up email with advice on how to bring them to life.
Check out this PDF for the full request for proposals and you can use this online form to submit your idea.
And don't forget, the City of Portland is also looking to help residents with livable streets projects. They just announced a series of workshops where you can learn more about the $100,000 that's up for grabs as part of their "Portland in the Streets" program.
Good luck!
— Jonathan Maus: (503) 706-8804, @jonathan_maus on Twitter and jonathan@bikeportland.org
BikePortland is supported by the community (that means you!). Please become a subscriber or an advertiser today.

If you have questions or feedback about this site or my work, feel free to contact me at @jonathan_maus on Twitter, via email at maus.jonathan@gmail.com, or phone/text at 503-706-8804. Also, if you read and appreciate this site, please become a supporter.