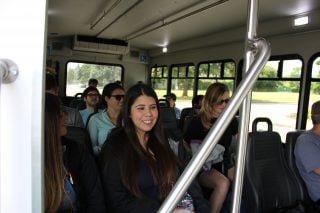 Three weekends in, the new bus line that offers $5 round trips between Gateway Transit Center, Rooster Rock State Park and Multnomah Falls is going gangbusters.
The buses, subsidized in part by the Oregon Department of Transportation, offer 12 departures a day from Friday to Sunday and each one has a rack that carries up to three bicycles.
Conceived as a way to cut congestion on Interstate 84 and take pressure off parking space in the Gorge, the buses carried more than 4,600 rides during their four-day launch weekend, including Memorial Day. Last weekend, the buses carried 1,477 rides.
"While this is only our third weekend of service, the early indications are encouraging," said Karyn Criswell, a regional transit coordinator for ODOT's Portland regional office, in an email Monday. "We are hearing great stories from passengers who previously didn't have access to Multnomah Falls due to financial and/or mobility limitations that are now able to experience one of Oregon's most beautiful destinations. In fact, I have a lovely hand-written note posted on my wall!"
Service will continue on weekends through September 25th. The first departure is at 8:45 am and the last bus leaves Multnomah Falls at 6:00 pm. The trip takes about 20 minutes one-way.
ODOT has committed to a two-year pilot project and they'll evaluate how it works at the end of 2017. If the response meets their expectations the transit line could expand to Hood River.
For a first-person account of a trip on the Columbia Gorge Express, see contributor Kate Laudermilk's latest Gal by Bike column, or see our coverage of the shuttle's May 27 launch for other basic details.
— Michael Andersen, (503) 333-7824 – michael@bikeportland.org
Our work is supported by subscribers. Please become one today.