With record rains and wind, Portland road users have had a lot to worry about recently. Now a popular bikeway is impacted by a maintenance project that's expected to last two weeks.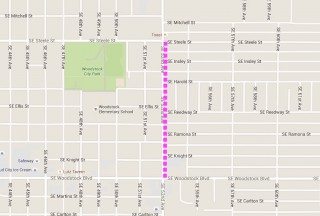 The Bureau of Transportation (PBOT) announced late Friday night that they're starting a pavement preservation project on SE 52nd Avenue from Woodstock to Steele (about 0.4 miles). The project started this morning and is expected to last through January 4th.
According to PBOT the street will be an active work zone from 7:00 am to 5:00 pm each word day.
This section of 52nd Avenue is a popular bike route that's part of the 50s Bikeway that opened in the summer of 2014.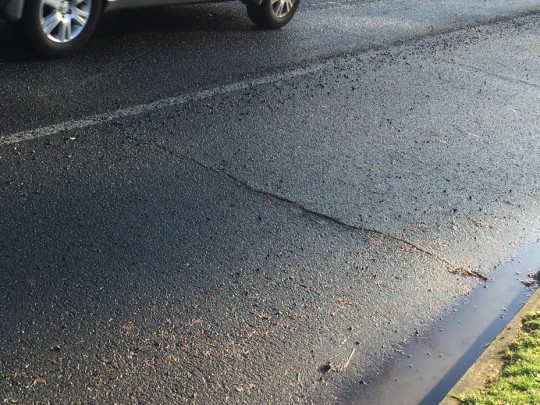 While the road won't be completely closed, PBOT says to expect a rough road surface. And keep in mind that lane striping has been torn up. "People riding bicycles should avoid the work zone, and either use alternate routes, open travel lanes or sidewalks," PBOT says.
BikePortland reader Benn Schonman rolled up on the project this morning. He sent in some photos and offered this report:
"SE 52nd between Woodstock and Ramona are really chewed-up for repaving… lots & lots on gravel in bike path as well as all over both sides of road….no crew on site @ 10am."
— Jonathan Maus, (503) 706-8804 – jonathan@bikeportland.org
If you have questions or feedback about this site or my work, feel free to contact me at @jonathan_maus on Twitter, via email at maus.jonathan@gmail.com, or phone/text at 503-706-8804. Also, if you read and appreciate this site, please become a supporter.