Starr Walker raced her bike yesterday,
and it was stolen just a few hours ago.
(Photo:
PolerCX/Instagram
)
Three seemingly unrelated bike thefts in the past four days have Portland's close-knit racing community feeling frustrated and fed up.
It started Thursday night and we just got word of another bike stolen a few hours ago. In that period five high-end racing bikes have been nabbed by thieves. The incidents don't appear to be connected, but it's rare that so many expensive bikes used for racing would be stolen in such a short period of time.
Please be on the lookout for these bikes:
— Shawn Small, founder of Ruckus Composites, got his custom mountain bike stolen last Thursday night. The bike is a one-off that he made and custom-painted himself. He has ridden it on the Oregon Outback and raced it at a 24-hour event. The bike was stolen from Southeast Portland. See details and photos below…
It is a primarily black MTB with a rigid carbon fork on it.
It says Ruckus on the downtube in very large colorful letters and colorful swirls all the frame and fork.
Internally routed everything
Custom painted matte black with swirly multi colored stripes
A carbon 15mm thru-axle fork with 2 extra water bottle mounts and 2 mounts for water proof boxes
Extra water bottle cage mount on the bottom of the downtube.
Thomson seatpost
Whisky carbon Handlebars 740 mm wide
Stans Crest wheels
Schwalbe Super Swan tires (brand new)
SRAM XX1 evertying
Barfly garmin mount with a 3d printed light mount glue to it.
Shimano XT Cranks
— Then Sellwood Cycle Repair reported three bikes stolen on Saturday night. The bikes were taken out of their Kona van. Photos and details below:
STOLEN CROSS BIKES!!! Be on the lookout for three Kona cyclocross bikes! On Saturday night we had three cross bikes stolen out of our Kona van. A light blue carbon Kona Major Jake*, and orange and black carbon Kona Major Jake* (*=photos not of exact bikes) and a very distinctive black and orange Kona Private Jake Prototype. Exact bike details coming soon. The Private jake should be east to spot with it's custom Orange Sellwood Cycle decal set, Iron Cross wheels, custom chain guide and wolftooth ring. Notify us at the shop or Portland Police if found!
Then today at around 1:00 Portlander Starr Walker reported that her singlespeed cyclocross race bike was stolen out of her home in Southeast Portland. She just raced the bike out at Alpenrose yesterday. Photos and details below: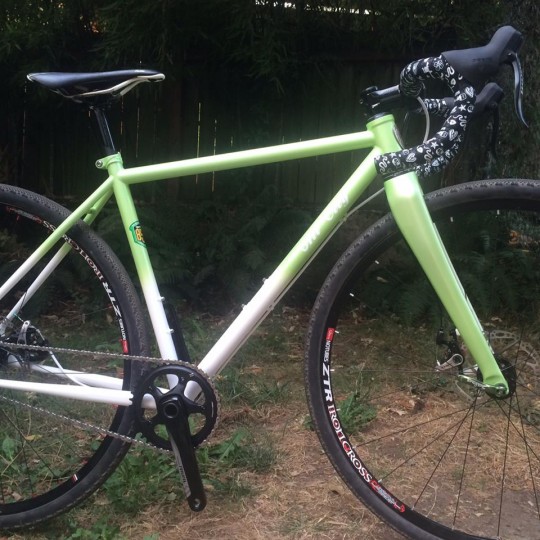 ALL CITY NATURE BOY 853 DISC BIKE HAS BEEN STOLEN — SIZE 46, Stans Iron Cross wheels, Zipp Service Course Parts, SRAM Rival Crank.
Judging from chatter I'm hearing across my networks, the bike theft problem in Portland continues to spiral out of control. Our effort to do something has clearly not been enough to make a significant impact on the problem. We have plans on how to ramp up those efforts but they haven't been executed yet. We do plan to organize the second annual Bike Theft Summit in December. With our experiences of the past year and the many lessons we've learned and allies we've gained, hopefully we can make some real progress.
In the meantime, watch your bikes like a hawk.