Posted by Jonathan Maus (Publisher/Editor) on October 7th, 2015 at 2:13 pm
As part of an ongoing effort to create their first-ever Bike Plan, TriMet has launched an online survey and mapping exercise.

The survey offers hints about which bike-related policies TriMet is hoping to improve on and the map allows you to drop a pin and share ideas about the system in general.
Once you log into the mapping exercise you can view an interactive map. Click into an area of interest then drop a pin and leave a comment. TriMet prompts users with several questions including: "Where do you connect between a bike ride and your transit trip? Do you have a suggestion for adding bike parking? Do you know of a gap in the bike network to reach your stop or station that needs to be improved? Do you have a favorite route to get to your regular stop or station?"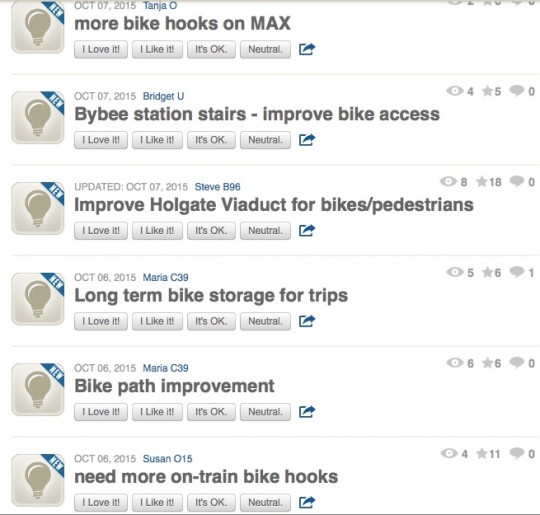 In the first week of use the map already has 94 "ideas". Once logged in you can read other people's ideas and vote on them.
The survey portion of the feedback tool is split into questions relating to bus, MAX, WES, and bike parking.
In addition to general questions like how often you use TriMet and why you use it in conjunction with cycling, the agency asks more specific questions that hint at their policy considerations. "Are you open to using a folding bike that can be brought onboard TriMet vehicles?"
As BikePortland readers know, TriMet has been struggling with overcrowding and how to fit more bikes on their transit vehicles for many years. It's no secret they are interested in encouraging (or even subsidizing?) folding bikes as a solution.
One intriguing question in the survey was about taking bikes onto buses: "How would you feel about allowing more space on the front of the bus for customers with a bike?" it asks.
It's obvious TriMet wants to nail down some clear policy language around bringing bikes on transit. At the end of the survey, after asking for basic demographic data, they sneak in a final question: "Do you have any further comments about bringing a bike to or on transit?"
This online tool will be available through the end of October. Check it out here.
If you want to share your feedback in person, there are two more TriMet Bike Plan open houses this week, including one tonight (10/7):
Wednesday, October 7
5 p.m.–6:30 p.m.
Oregon Clinic, 1st Floor
1111 NE 99th Ave.

Thursday, October 8
5 p.m.–6:30 p.m.
Orenco Bike & Ride in Hillsboro
West side of NW 231st at the MAX tracks
Get involved with this plan at TriMet.org/bikeplan.
Jonathan Maus is BikePortland's editor, publisher and founder. Contact him at @jonathan_maus on Twitter, via email at maus.jonathan@gmail.com, or phone/text at 503-706-8804. Also, if you read and appreciate this site, please become a supporter.