Screentshot from Reed Magazine blog.
The Reed College Bike Co-Op is now named the Mark Angeles Memorial Bike Co-Op.
Mark Angeles was the 22-year-old Reed graduate who was killed in a collision while biking on SE Gladstone back in May. Angeles was an active member of the Reed community and was manager of the Co-Op.
"Mark Angeles had an enduring impact on the lives of students, staff, faculty and many others beyond Reed," wrote Reed's Vice President for Student Services Mark Brody in an email last week. "We miss him dearly."
On Tuesday Angeles' friends and family organized a memorial event and bicycle ride in his honor.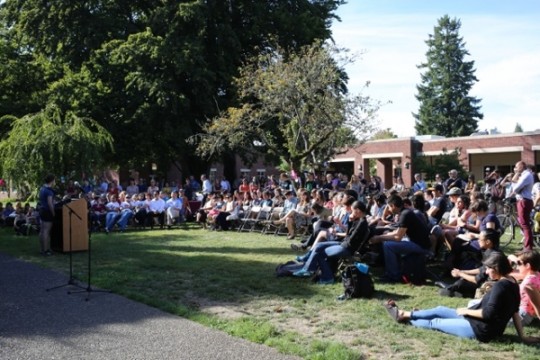 (Photo: Reed College)
Writing on the Reed Magazine blog, Chris Lydgate shared a description of the event:
Several hundred people gathered in the Quad to witness the moving ceremony and listen to friends, classmates, professors, and staff share their memories of Mark…

Many speakers shared stories demonstrating Mark's remarkable compassion for other people. How he showed a first-year student around Portland. Brought his thesis advisor tea. Delivered doughnuts to students in chemistry lab. Cheered up a friend by inventing a bicycle variant of Quidditch.
Angeles is the only person to die while bicycling in Portland this year.