This stellar road inside Cape Blanco State Park is now officially recognized as one
of the best places to ride a bike in Oregon.
(Photo © J. Maus/BikePortland)
Last week the Oregon State Parks Commission unanimously approved two new Scenic Bikeways; the Wild Rivers Coast and Cascade Siskiyou routes. The new routes are the first time the Bikeway program has included the coast and the southern Oregon region.
The Wild Rivers Coast Scenic Bikeway is a a 61-mile route based out of Port Orford. It heads southeast along the curvaceous Elk River and then north up to Cape Blanco State Park, the westernmost point in the entire state. The park includes a lighthouse and the historic Hughes House, both of which you might recall hearing about when I explored the area myself a few years ago during a ride down the coast.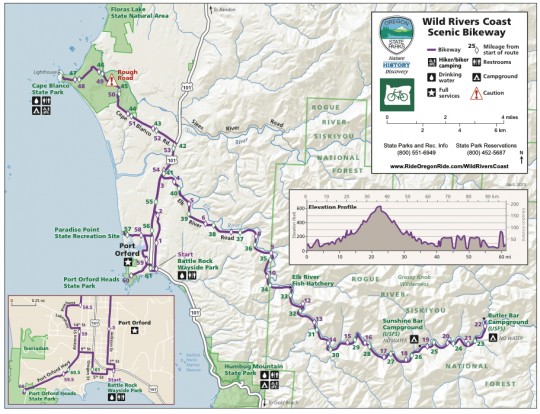 The Cascade Siskiyou Scenic Bikeway begins in the southern Oregon city of Ashland. The 55-mile loop heads east and takes you around Emigrant and Howard Prarie Lakes. There's even a nice bikepacking option if you're ready to sleep overnight.
With the addition of these two new Scenic Bikeways, Oregon now boasts a total of 14 routes that have been officially recognized since the program was established in 2008.
The Bikeways program does not come with any funding for infrastructure improvements, except for special way-finding signage. The routes themselves are mostly on standard roads and highways, however the selection committee takes into account the general safety of the road in making their decisions.
You can learn much more about them and the other 12 Scenic Bikeways at RideOregonRide.com.