SE Division Street has a frequent bus, two parallel neighborhood greenways and many shops within walking distance — but prices in the area are so high that many residents own cars anyway.
(Photo: M.Andersen/BikePortland)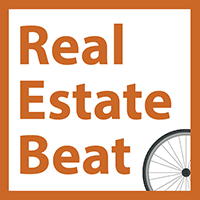 Oregon's 20-year ban on a common affordable-housing policy could be headed for the dustbin, based on what happens after a hearing in Salem next Monday.
The policy, known as inclusionary zoning, would allow city governments to require that new buildings within certain areas include certain ratios of lower-rent housing units. Backers call it a useful tool for preventing desirable parts of town from becoming homogeneously wealthy.
Inclusionary zoning is entirely banned in two U.S. states: Oregon and Texas. House Bill 2564 would remove Oregon's ban.
"Everyone should have the opportunity, at least, to live in communities where there's transportation choices, but our current pattern of development hasn't given us that," said Vivian Satterfield, associate director of OPAL Environmental Justice Oregon. "The people who can afford the best transportation options without needing the cheapest transportation options are getting the most choice, are getting the most variety."
In Portland today, the exception is a neighborhood like the Pearl District. In 1997, developers and the city directly negotiated a deal that today allows 28 percent of new units in the generally posh neighborhood to be lower-rent and available only to people below certain incomes.
"Everyone should have the opportunity, at least, to live in communities where there's transportation choices."
— Vivian Satterfield, OPAL
Inclusionary zoning could let cities build such agreements directly into their zoning code rather than striking them on a case-by-case basis. It could also toughen the penalties should developers fail to meet the targets; as The Oregonian reported last August, the Pearl District's ratio of lower-rent units was supposed to be 35 percent. South Waterfront developers have also failed to meet their targets, and the city has since argued for those targets to be reduced.
"What we're going to be trying to achieve is to open up more cultural and economic diversity in our community and in the inner city," said Diane Linn, executive director of the homeownership nonprofit Proud Ground and a former Multnomah County chair.
Since migration to the Portland region (and also biking rates) began to soar around 2005, the city has failed to build enough new homes to keep up. That's developed into one of the nation's worst rental housing shortages and rapidly rising rents, especially in bikeable areas.
The case against inclusionary zoning
The Pearl District has more income diversity
than many fast-growing areas, but less than its
developers pledged.
(Photo: J.Maus/BikePortland)
People who oppose inclusionary zoning don't deny the affordability problem. But some say the public, not new developments, should bear the cost.
"They see it as the private sector's responsibility to solve this public-policy problem," said Jon Chandler, CEO of the Oregon Home Builders Association. "I understand that a good community has a mix of all of the above. But I just think there are fundamental ways to get there that are not the builder's problem."
Chandler suggested speeding up the development permit process, lowering building standards for low-cost homes and allowing larger lot sizes in suburban areas. He warned that new rules on what sort of units can be built would only further limit housing supply.
"We've already done a pretty good job of constraining the real estate market," Chandler said.
Linn, the former politician now working for a homeownership nonprofit, conceded that direct tax subsidies for cheaper units might indeed seem like the best way to make housing affordable. But that'd require tax hikes, which seem impossible to sell.
"When some of those doors get shut, you go to the next door that you can open," Linn said. "Especially as we see affordability just spiraling out of reach for people. … My job is to see the people who walk in here every day with a hope of having some way of raising their kids in a safe and stable environment. … They don't have a high-paid lobbyist to say that."
Linn added that the homebuilders' association is "an honorable group" and a valuable partner for her organization.
Chandler suggested that instead of merely banning inclusionary zoning, the state might offer a list of allowable forms it might take.
"Rather than the statute says 'you can't unless,' which is what we have now, you could have 'you can if,'" he said.
Advocates hope for big turnout
Satterfield, the environmental justice advocate, said the Oregon Inclusionary Zoning Coalition is working to coordinate rides to Salem for those who want to carpool to Monday's 3 p.m. hearing.
"We're really trying to turn out good testimony, really pack the room," Satterfield said. "For too long there's been this thinking that this is a Portland-metro, urban issue. But the reality is that there are communities all over this state that are seeking to have this conversation."
Here in Portland, Satterfield said, both the city and regional government Metro have joined the lobbying effort to kill Oregon's inclusionary zoning ban. She said Commissioner Dan Saltzman, who oversees the Portland Housing Bureau, seems likely to advance the concept over the next few years if the state allows him to do so.
"Just because we're lifting the ban does not mean that we're getting a mandate," Satterfield said. "Arguably, that's going to be the bigger conversation and the bigger fight. … The ban on inclusionary zoning is like a mute button. We actually cannot have those conversations. All we're trying to do right now is just to unmute."
— The Real Estate Beat is a regular column. You can sign up to get an email of Real Estate Beat posts (and nothing else) here, or read past installments here. This sponsorship has opened up and we're looking for our next partner. If interested, please call Jonathan at (503) 706-8804.