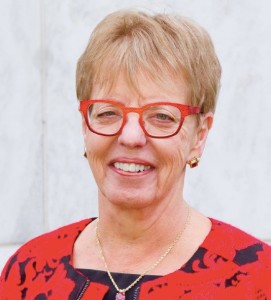 Kathy Goss
(Photo: Kathy Goss for Oregon/
Facebook)
Should the Oregon Department of Transportation stop paying its staff to work on bike lanes and trails in order to save money? That's what Kathy Goss, a candidate running for a seat in the Oregon House of Representatives, thinks.
During a debate with her challenger Paul Evans (Democrat) last week, Goss, a Republican, expressed that idea during a discussion about how ODOT might trim its human resources budget. Her comments were reported by the Salem-based Statesman Journal. Here's an excerpt from their article published September 5th:
When asked whether they would support using outsourcing and other means to reduce the number of employees at the Department of Transportation, Goss said she would go a step farther.

"I would reduce the amount of bicycle lanes and the amount of trails we are taking care of," Goss said. "The state of Oregon is still in a recession. We don't need the fringe things right now, and we don't need the public employees to do them."
Referring to infrastructure used for bicycling as "fringe" might seem like a, well, fringe idea to many of you, but in House District 20, where Goss and Evans are hoping to rally support, it might actually play well. The district covers the rural cities of Monmouth (Oregon's last "dry" town where alchohol sales were prohibited up until 2002) and Independence west of Salem. It's what political watchers call a "swing district" and it "definitely leans Republican" a source told us.
HD-20's outgoing representative, Republican Vicki Berger, won 63% of the vote in 2012. In that same year, Barack Obama won just 50.6% of the vote (to Romney's 46.2%). The Oregonian calls the Evans-Goss race a tossup.
Just a few days after this debate with Evans, Goss backed out of all future debates, telling the Statesman Journal that she felt Evans' supporters in the audience were "loud and disrespectful" and that Evans himself was "condescending."
We've contacted Goss and her campaign for comment but we haven't heard back.