Posted by Jonathan Maus (Publisher/Editor) on April 28th, 2014 at 11:25 am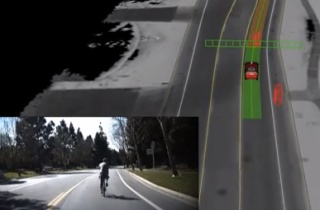 Scree grab from new Google video showing
how their self-driving car can avoid a
bicycle rider.
Google released an update on their self-driving car project today that put a special emphasis on the cars' ability to detect and maneuver around bicycle riders.
While driverless cars have had widely publicized success in their ability to navigate open roads and freeways, dealing with urban traffic is a whole different ballgame. In today's update, posted on their official blog, Google says they're well on their way to "mastering city street driving."
Here's more from the blog post:
Jaywalking pedestrians. Cars lurching out of hidden driveways. Double-parked delivery trucks blocking your lane and your view. At a busy time of day, a typical city street can leave even experienced drivers sweaty-palmed and irritable…
A mile of city driving is much more complex than a mile of freeway driving, with hundreds of different objects moving according to different rules of the road in a small area. We've improved our software so it can detect hundreds of distinct objects simultaneously—pedestrians, buses, a stop sign held up by a crossing guard, or a cyclist making gestures that indicate a possible turn. A self-driving vehicle can pay attention to all of these things in a way that a human physically can't—and it never gets tired or distracted…

As it turns out, what looks chaotic and random on a city street to the human eye is actually fairly predictable to a computer. As we've encountered thousands of different situations, we've built software models of what to expect, from the likely (a car stopping at a red light) to the unlikely (blowing through it). We still have lots of problems to solve, including teaching the car to drive more streets in Mountain View before we tackle another town, but thousands of situations on city streets that would have stumped us two years ago can now be navigated autonomously.
There's also a short video that shows a computer simulation and live camera view of the self-driving car in action. The video includes a scenario of the car moving past two people on bicycles.
Here's how the narrator explains the interaction:
Our cars treat cyclists as a special category of moving object. When a cyclist holds up his arm. Our software detects his hand signal and predicts his movement into our lane. The car knows to continue yielding to the cyclist passing by, even when he changes his mind multiple times.
The video also shows a potential right-hook situation, with the bicycle riders coming up alongside the car as it waits to turn right. The software seems to easily detect that approaching riders and waits for them to go by before making the right turn.
Google says their smart, self-driving cars will lead to city centers, "freed of congestion from cars circling for parking" and will result in safer roadway interactions. "With every passing mile ," says Google, "we're growing more optimistic that we're heading toward an achievable goal—a vehicle that operates fully without human intervention."
This is all pretty amazing stuff; but of course it's coming from a company that stands to make millions if this new technology ever becomes widely used. When Aaron Naparstek, noted livable streets advocate and founder of Streetsblog read that Google's software could turn a chaotic city street into something "fairly predictable," he tweeted, "Not buying it."