A handmade leather "can cage" is one of the Portland-
made products
Walnut Studiolo
will be offering
Japanese bike lovers.
Portland is, city officials say, big in Japan right now. Two admired local bike accessory makers are looking to ride that cultural wave.
Fashionable headgear design firm Nutcase Helmets and Walnut Studiolo, a maker of custom leather products, will send their owners to Japan next month as part of a delegation of nine local businesses that are lining up distribution in the world's fourth-largest economy.
The one-week trade mission on April 13-19 is organized by the Portland Development Commission, the city's economic development agency, to "make the most of Japanese interest in all things Portland," as its website says. Grants from two state trade programs will pay some of the cost for participants.
"Japan's going really crazy for Portland right now," said Miriam Berman, Nutcase's Interim Head of Global Sales. "Everybody's kind of into Portland now. It's kind of strange."
Well, maybe not that strange, Berman added. "It's a manageable place to go and it's creative," she said.
Whatever the reason, Berman said Nutcase is already distributed in Japan but hoping to spread knowledge that the company is based in Southeast Portland.
"It's probably not known as a Portland brand," Berman said. "And so we thought we could make that connection and we could make it a Portland brand, which would make it even more endeared to the Japanese people."
Berman said she's also hoping to research the ways people in Japan wear helmets and of the products available to them.
"We've been talking for a long time how to adapt our helmets for the Asian head shape," Berman said. "They're kind of more oval side-to-side, so sometimes the fit is a little different."
For readers who may not be familiar with the Nutcase helmets visible everywhere you turn in central Portland, here's a sampling from their current lineup: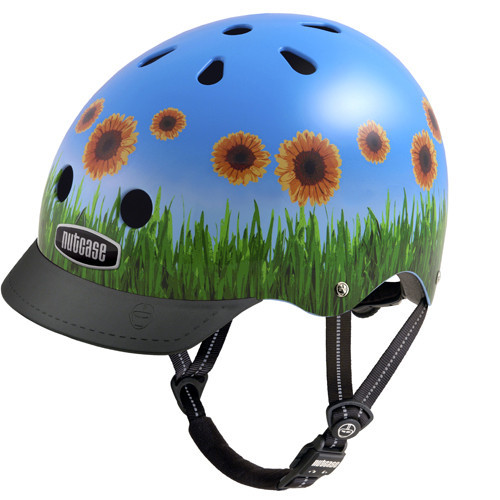 Walnut Studiolo, meanwhile, is a smaller operation: a pair of husband-wife co-owners plus one part-time employee who joined their team last August. Co-owner Valerie Franklin said their top goal for the trip is to line up Walnut's first Japanese distributors.
"We sell all around the world, and we've sold direct to Japanese customers before, so we know that there's some interest there, but this will allow us to reach them more broadly," Franklin said in an interview. "We think Japan is going to be a great market for us. They have a culture of craft and craftsmanship, and we think they'll really appreciate the high quality of craft that we make."
Selecting which Walnut products to bring has been difficult, she said.
"I don't think a lot of them play cribbage over there, so we won't be bringing our cribbage board," Franklin said. "But I think they'll love things like the pocket pannier."
Here's some of Walnut's most interesting stuff:
Participants in the trade mission will get one-on-one meetings with Japanese distributors as well as a chance to be part of two 90-minute "pop-up" trade expos in Tokyo and Kyoto that will welcome members of the media and public. Franklin said the state's trade promotion grant pays for one-half of one person's ticket, with participants covering the rest.
Franklin said she too is eager to learn about the ways bicycles fit into Japanese life.
"We're really excited to represent Portland and our bicycling community," she said. "Wherever there are cities, there is bicycling."
Correction 3/26: An earlier version of this post misstated the government organization offsetting some of the participants' costs.