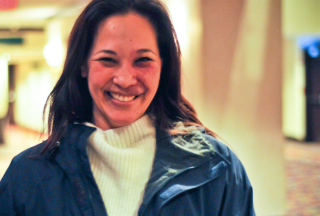 Suepinda Keith, bike advocate.
(Photo by J. Maus/BikePortland)
—BikePortland's coverage from Washington D.C. is made possible by Planet Bike.
There's been a lot of talk in the hallways here at the National Bike Summit about the Women's Cycling Forum. Started just two years ago as a single panel discussion before the Summit, it has turned into a full-day of programming with well over 400 attendees. The sessions were packed, the energy was high, and its success has led to interesting conversations about how it compares with the Summit, it's larger and more established sibling.
To be clear, the Women's Cycling Forum is a product of the League's Women Bike program, an event to make the summit, and bike advocacy in general, more welcoming to women. It was launched in response to a growing awareness that American women don't ride bikes nearly as much as their male counterparts.
When the National Bike Summit opened Monday night (just minutes after the Women's Forum concluded), there was a palpable change. The faces in the crowd became less diverse, a bit older in age, and much more male-dominated. And the speakers at the big dinner and evening plenary were all men. Then the next morning at the Opening Plenary the speakers were also all men. This didn't go unnoticed by many attendees.

After all the enthusiasm for Women Bike and growing awareness about the importance of including women's voices on the national advocacy stage, how could the League not include women in the two opening plenaries? If the League really embraced the spirit of Women Bike, why not integrate women leaders, speakers, and activists more fully into the Summit, instead of having a separate Women's Forum?
Some might see the lack of women at the Summit plenaries as a glaring blind spot and proof that the League has a lot of work to do. Others say the League did have a lot of women leaders at the Summit, they just scheduled all of them for the Women's Forum. Suffice it to say, this is an ongoing discussion among advocates and among the League itself.
This issue also came up during a recording of the Talking Headways podcast. Joining me on the show were host Tanya Snyder of Streetsblog USA, activist Doug Gordon of Brooklyn Spoke, and bike tour leader Suepinda Keith of Triangle Bikeworks in North Carolina.
"I'm the only person of color in my state delegation. I need to be in those [congressional] offices to speak up for low-income communities and people of color to make sure those voices are heard."
— Suepinda Keith
It was Suepinda's second time at the Women's Forum. She shared during the show, and during a conversation with me afterwards, that, as a woman of color, she felt very comfortable and empowered at the Women's Forum. Then, as the Summit started and she settled into the opening plenary, she felt much differently. "It felt yucky" were her exact words on the podcast.
"Inclusion was front and center at the Women's Forum," she shared, "I saw a lot more diversity and a feeling that 'we're in this together.' As a woman, coming into the Summit [plenary], I was scanning the room for people of color. They need to be here. And if they aren't, what are we doing to address that?"
But despite those initial feelings, Suepinda found her place at the larger Summit event. She attended every session she could that dealt with equity and women's issues (she's especially inspired by what activists are doing in Los Angeles). I could tell that Suepinda enjoyed her time at the Summit and she seemed invigorated by the new people she'd met and the information she could take home.
And today, Suepinda is joining the her fellow North Carolina advocates on Capitol Hill to lobby their members of Congress. She's a bit nervous about it and she's never done anything like this before. And, she said, "I'm the only person of color in my state delegation. I need to be in those [congressional] offices to speak up for low-income communities and people of color to make sure those voices are heard."
And here's why all this matters: Suepinda would not be lobbying on Capitol Hill today if it weren't for the Women's Forum event. It opened doors for her and gave her the building blocks to move past her usually shy and introverted personality (by her own admission) and become a strong voice for bicycling. She has some great stories to tell and I think they'll resonate loudly on Capitol Hill.
Suepinda's story is a great sign for the League. While they can continue to tweak how best to make the Summit more reflective of the inclusive and welcoming spirit of the Women's Forum, they've clearly made important strides in the right direction.