Jeffrey Cramer, who says he can support himself indefinitely as long as he spends just $500 a month, talked to us about bikes, bike theft and living outdoors in Portland.
(Photos by M.Andersen/BikePortland)
When Jeffrey Cramer bought what he now calls "Sarah's bike" for $10 last Friday night, he wasn't planning to track down its owner, he said. He just needed a way to get home, because someone had stolen his own bike a week before.
"At that time of night, $10 for a bike ride home was a good deal — you can't get a cab back to where I live for $10," he said. "It wasn't 'til I got home that I realized I was riding a gem."
Cramer, 48, doesn't want to say exactly where he lives, except that it's "way the fucking hell out there." But five days after he turned down most of a $100 reward for tracking down the owner of the bike he'd bought from the man who stole it, this self-described "vagabond" was willing to have a candid conversation about his decision to live outdoors, the importance of bikes in his life and his own thoughts about Portland's underground economy of stolen bicycles.
I'd contacted Cramer last Sunday using the temporary email he'd created to contact Sarah Mirk, the owner of the bike he'd bought and then returned. I asked if he'd be willing to meet up and talk about his decision. On Wednesday, after seeing our post, he wrote back. "I don't see why not," he wrote.
"I was thinking that maybe I was more happy than Sarah to give her bike back," he told me when we met. "Then I saw that she was maybe more happy than me."
Sarah Mirk with her bike, which Cramer bought
and returned to her. She offered him
a $100 reward; he accepted $40.
The former mechanic had showed up at Director Park Thursday with a loud laugh, a well-pressed shirt, a smile damaged by fistfights, a bottle of alcohol in his backpack and a big blue vocabulary. He also said he had no interest in distorting the truth about his very unusual life.
"I don't need the bullshit," Cramer said.
He told me I could find his mugshot online. He was right. PDXmugshots.com shows that Cramer was booked into Multnomah County jail once in 2011 and once in early 2013, both times with zero bail and no criminal charges.
One of the most unusual things about him, he said: Cramer has enough cash in the bank that living outdoors isn't a huge challenge for him.
"I worked most of my life; I'm approaching 50 years old," he said. "I've got enough money that I can draw out $500 a month. I have to keep it to a minimum, and it'll be enough forever."
That's exactly what Cramer's set out to do. He keeps a storage locker in town where he keeps valuables like his TV set and bike tools. He gets around by bike whenever possible, or foot and transit when his bike is stolen. That's something he says has happened five or 10 times with different bikes. (He's not certain where he cable-locked his most recent loss, though he thinks it was at his usual storage spot. "To tell you the truth, I was on a bender," he said.)
"I wish I was working," he added. "But oh, shit. Jobs aren't easy to come by."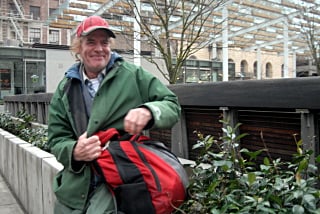 Cramer, whose father was an orthopedic doctor in Washington state, said he studied history at Tacoma Community College and the University of Washington.
"I got into trouble with the law during college," he said. "An attempted burglary. … I wanted to be a teacher. It just derailed that."
He worked as a pinsetter mechanic, among other gigs, and continues to pick up temporary jobs sometimes. Most of his time, though, is his own: listening to the radio, reading at libraries, or spending time with the people he's come to know. He spends winters in Portland and summers in Montana, he said. He said he'd never spent a night in an emergency shelter.
"If you have enough money, it ain't hard," he said. "If you don't have any money, it's really hard."
Cramer's thoughts on bike theft are nuanced, too.
"There's a whole bunch of bike thieves in this town," he said. "These are not homeless people. They're not what you'd call criminal types. They're well-dressed people who have other things to do with their time. … They live in apartments and you would never guess who they were."
"There's a whole bunch of bike thieves in this town. They live in apartments and you would never guess who they were."
— Jeffrey Cramer
So if he knows, why doesn't he try to report them?
"Nobody likes a snitch," Cramer said. "That's where I'm at. I don't do shit like that, but I wouldn't want somebody to snitch on me."
Though Cramer seems to despise bike thieves, he also said they "come in handy some days."
"You need a bike?" he said. "He's got a cheap bike."
Cramer said he figures he could make extra cash by regularly collecting small rewards like Mirk's, but doesn't want to.
"There used to be an old guy who would go down to the waterfront and buy bikes and get them back to their rightful owners," Cramer said. "He retired. Now nobody does that shit any more. … It's not really my game. I don't know what the hell my game is, but that ain't it."
As we talked, we looked at the high-end 33-floor office tower being built across the street. I asked Cramer if he had any thoughts on what the city's policy should be toward people who live outside.
"I think they should get rid of us," he said with a laugh. "Well, I don't want any more of us." And he shook his head with a smile.