Julia Himmelstein at Tuesday's Dress Like Your Bike event.
(Photos by M.Andersen/BikePortland)
Did you ever start to realize that you've begun to physically resemble your bicycle?
That was the question of the night in a North Portland bike shop Wednesday as dozens of bike riders coordinated their color choices to pose for free shots from a local fashion photographer.
The event was a promotion for Quick Study Clothing, the label of local bike-friendly dress designer Caitlin McCall, and Gladys Bikes, a mostly-just-for-women bike shop on Williams Avenue. Behind the official camera was Shola Lawson (I decided I was sort of the "making of" documentarian for her shoot) and on the tables were kettle corn, Oreos and champagne. It was a hoot.
"Caitlin and I had wanted to do something together, so we went out for coffee one time and said, what kind of event would be fun where we could talk about bikes and dressing up?" Gladys Bikes owner Leah Benson explained.
Lawson's official (and much more polished) photos will be available on the Gladys Bikes Facebook page and Quick Study Clothing Facebook page on Friday, but the organizers let us hang out to capture some of the fun. Here's a selection of the lineup Wednesday:
Anna Kirgiogis.
Keegan Greenwald.
Amanda Miller.
Amanda Lee Harrison.
Lale Lorski.
Claudia Martinez.
Emily Harris.
Jennifer Young.
Andie Thompson.
Jeremy Young.
Kelley Goodwin.
Rachel W. (I didn't manage to get her last name.)
Shannon Weber Long.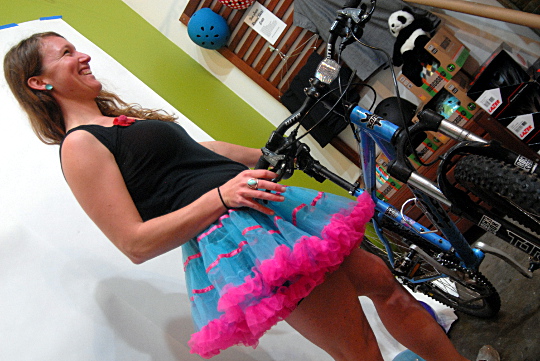 Valerie Pufahl.
Stephanie Edman.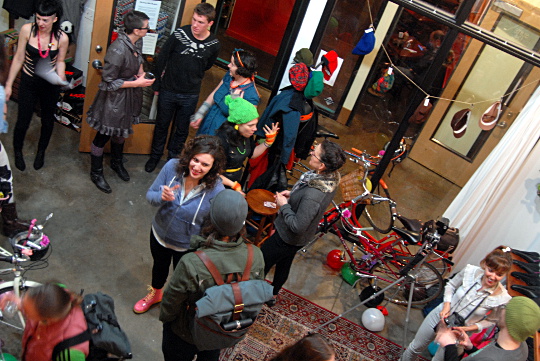 The gathering comes together Wednesday. Fashion designer and co-organizer Caitlin McCall is in the top left.
Photographer Shola Lawson.
Benson said a "winner" from the evening will also be chosen and posted to the Gladys Bikes Facebook and Instagram feeds on Friday.