Posted by Jonathan Maus (Publisher/Editor) on January 22nd, 2014 at 10:51 am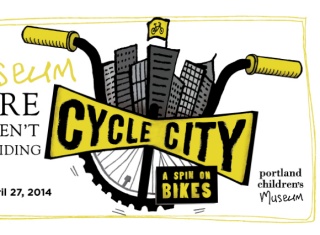 Detail from poster for new exhibit.
The Portland Children's Museum is prepping for a new exhibit called "Cycle City: A Spin on Bikes". The museum says the exhibit's interactive displays will, "inspire the next generation of PDX 'bicycle buffs'".
Fresh off the world-renowned Michael Embacher collection making its North American debut at the Portland Art Museum's "Cyclepedia" exhibition this past summer, bicycling will play another starring role at the Children's Museum.
According to a museum press release, Cycle City was created with materials donated from local bike shops, designers, mechanics, and riders. Here a partial list of the exhibit components set to open on January 31st:
The Bike Shop: A variety of interchangeable PVC and wood parts and accessories to create an original bikes.

Splashguard: Hand- and foot-driven spin art stations made out of bike parts will be grouped at varying heights.

Crisscross: A progressing group art project using multiple visitors. Using hand pedals, one guest will control of the Y axis, while another will control the X axis.

Bike PDX: Visitors pedal along with birds-eye videos of local rides and answer prompts along the way.

Pedal Power: Visitor-powered stations will power the tower, expelling energy through lights, sounds, Jacobs's ladders, machinery, and more.

Other exhibit components include Tire Tracks (a bicycle music box), Light Rider (shadow play), and a cycle-powered Gravitram sculpture.

Cycle City will also feature bike sculptures and automations along with bike-based artwork from local artists throughout the run of the show.
And here are some teaser photos of some of the exhibits in progress…
(Photos: Portland Children's Museum)
Portland Children's Museum Grant Manager Jessica Walker says the exhibit is part of their commitment to "better reflect our community and its unique character in our programming."
"Cycle City is a result of the teamwork of Portlanders who love living in such a bike friendly city," added Walker, "many of us commute via bike, have friends that use bikes for their jobs, know artists who utilize bike parts, etc. We tapped into the various ways bikes are used in Portland to explore their creative potential for this exhibit."
Cycle City runs from January 31st to Aprill 27th. The Portland Children's Museum (4015 SW Canyon Road) is located in Washington Park across from the Zoo and is easily accessible by MAX light rail. More info at PortlandCM.org.