Detail of PBOT plans for bike lanes on Foster Rd.
It's been almost two months since a committee of citizens approved PBOT's plans to re-design SE Foster Road. If all goes according to plan, Foster will get a new bicycle-only travel lane between SE 56th and 90th and a host of other changes meant to improve safety and access.
At this stage we're about 15 months into the planning process and PBOT is gaining last bits of support and making final design tweaks in advance of official adoption by City Council that will likely happen in January. Earlier this month, about 130 people attended an open house for the project. Area resident, urban planner, and Foster United blogger Nick Falbo said the plans enjoy "broad support" from adjacent neighborhoods. "The most frequent complaint against the recommendation from supporters." he wrote, in an email to the Active Right of Way email list, " is that the bikeway should be better."

This is criticism that has also been evident in the comments from readers here on BikePortland. While many people hoped for more robust bicycle access — like a protected bikeway or cycle track — others feel the bike lane is a positive step in the right direction.
Falbo also reported back that there remain a few "key critics" who are not happy with the process. We touched on their issues in our report from the final stakeholder advisory committee meeting. In addition to criticisms that the committee was "too white, too young, too multimodal," they also feel residents east of the project area will bear the burden of the slower driving times projected to come with the changes, while not benefiting from the safety and bike access improvements.
"In my opinion, the criticism does have some merit," Falbo wrote in his email, "but not enough to hold or reject the plan. The process wasn't perfect, but I can say without a doubt it has been the best public involvement the neighborhoods have ever seen. No project on Foster has had as much participation, attendance, awareness and attention as this has."
To garner more public feedback on the proposed changes, PBOT has released an online survey. Among the questions asked is how best to connect the new bike lanes to SE 52nd. Currently, PBOT has the bike lanes ending around SE 56th and they are considering routing bicycle riders onto side streets due to a narrow cross-section on Foster that would require removal of on-street auto parking from one side of the street.
Here's the PBOT graphic to illustrate the options (click to enlarge):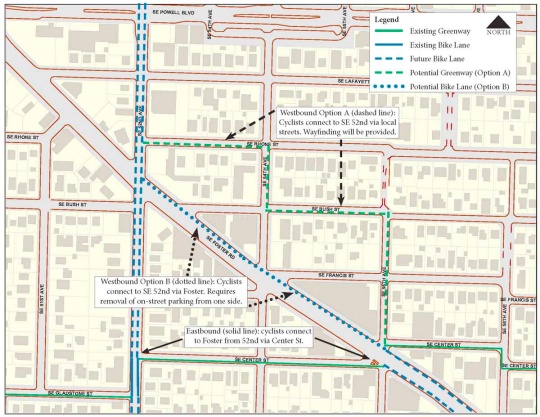 Weigh in with your opinions via the online survey.
With federal grant money in the bank, PBOT would likely begin construction of top priority elements of the Foster Road Transportation and Streetscape Plan in 2014. Learn more by reading our past coverage and visit PBOT's official project website.
Contact Jonathan at @jonathan_maus on Twitter, via email at maus.jonathan@gmail.com, or phone/text at 503-706-8804. Also, if you read and appreciate this site, please become a supporter.