Posted by Steph Routh (Contributor) on December 16th, 2013 at 11:00 am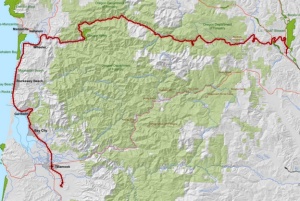 The Salmonberry Corridor would connect Banks
to Tillamook on the Oregon Coast.
(Map by Oregon State Parks & Rec)
Turning the broken Salmonberry rail line into a biking, walking and horse-riding corridor between Washington County and the Pacific Coast has some of our neighbors worried that it'll interfere with Oregonians' age-old connection to the forest.
I get the concern, because my family has loved this forest for generations. But here's what I see: Connectivity is what this proposed facility does best. Let's connect more people to Oregon's beauty, to the traditions I grew up with, and to a more resilient local economy.
When I first heard about the Salmonberry Corridor project, my thoughts were mixed. It's a cool idea and use for a pre-existing, troubled rail alignment; but Northwest Oregon currently has many needs that are unfunded (Barbur Boulevard, 82nd Avenue, multi-modal improvements along Highway 101 main streets, etc.). Frankly, I was skeptical that adding a new path to the Coast was a priority.

"The Tillamook Forest is a special, hallowed place for anyone whose family has lived in the area, and I for one hope more people can access its breathtaking beauty alongside those who have called the area home."
— Steph Routh, 4th-generation Oregonian
Then I attended the open house and, while project staff explained the project, imagined riding through Tillamook Forest with my niece and nephew. I was completely hooked. We need funded multi-modal solutions along urban highways and highway-main streets, and we need off-highway connections.
A number of folks from Cycle Wild, a group that seeks to connect people with nature via the bicycle, attended the Banks open house a few months back to support this project. Cycle Wild trips use Highway 6 to get from the Portland area to Cape Lookout; we often hear people angrily yell, "Get off the road!" while we're hugging the shoulder.
As we stated in the Banks open house, we'd love to grant those people their wish. The Salmonberry Trail is the perfect opportunity for a safe ride to the coast. The proposed alignment also creates a safer biking experience along Highway 101 and would separate cycling from auto/freight traffic, which was an expressed hope of one over-the-road trucker present at the Banks open house.
Most other open house attendees were 3rd- to 5th-generation Oregonians. Many came because they had heard that this new path would take away hunting access. Families represented at the open house have been hunting in the forest for generations, so this was a perceived threat not just to hunting access but to a way of life, to their personal relationship with the forest.
I can understand this. I am a 4th-generation Oregonian. My grandfather worked in the forest in the timber industry. Fun fact: my great-grandmother Mary L. Roberts covered the Tillamook Burn for the Forest Grove Times and the Associated Press. My gramps' ashes are scattered in the forest, and I wave to him every trip I take to the coast. My family has hunted in the forest. The Tillamook Forest is a special, hallowed place for anyone whose family has lived in the area, and I for one hope more people can access its breathtaking beauty alongside those who have called the area home. The Salmonberry Corridor Trail would do that.
I hope that, through this planning process, we can come to a shared understanding that the Salmonberry Corridor can actually provide better hunting access to local residents (one man present at the Banks open house stated that he bikes to hunt). This project can literally provide a pathway to developing a personal relationship with and appreciation for one of the most beautiful places on this earth (in my humble Oregonian opinion).
There are fishing and swimming holes that Gramps took me to that I have not been able to find on a map since. The whole area is bathed in wonder and discovery. I also hope we can take a step back and realize that we are not talking about paving the entire forest; this is barely a thread wending through an expansive area where railroads have gone before.
A few attendees were adjacent property owners to the Banks-Vernonia Trail and noted that littering and trespassing had actually decreased since the path was opened (though there are still of course the occasional trespassers), and that the area is actually cleaned more often thanks to trail stewards. The biggest positive note, however, was what the Salmonberry could potentially do for local economies. A few folks cited Vernonia's improved economy due to the Banks-Vernonia Trail; according to some present, Timber's economy could use the boost that Vernonia received. The woman from Friends of the Banks-Vernonia Trail was incredibly eloquent and thoughtful.
Finally, one of the most memorable testimonials from someone present, a Banks resident, went something like this: "This trail is for us! I hear people talking about how much this trail will cost. Do you have any idea how much money we spend in foreign countries every year? That's money coming out of our pockets that we'll never see again. This project invests in us. Maybe we have concerns about some of the details and how this or that should be done, but this trail is an investment in us."
— Steph Routh lives in Portland's Lents neighborhood. She is the former executive director of Oregon Walks and a founding board member of Cycle Wild. You can share your thoughts on the Salmonberry Corridor planning process by emailing Oregon State Parks planner rocky.houston@state.or.us or calling him at 503-986-0750. The next set of public meetings on the issue will be scheduled for late February.