Posted by Jonathan Maus (Publisher/Editor) on September 20th, 2013 at 10:01 am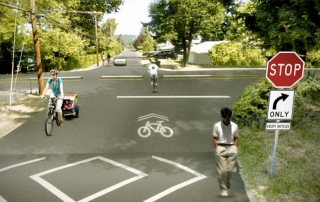 Concept of Monroe/Linwood intersection.
(Graphic: BTA)
Yesterday, the Oregon Department of Transportation announced the winners of their 2013 Transportation and Growth Management grants. Among them is a $103,000 award that will fund the planning and design of the Monroe Street Bike Boulevard/Neighborhood Greenway project.
While the dollar amount is relatively small, this grant represents a major milestone for Milwaukie, a city on the Willamette River just six miles south of downtown Portland.
The project has been a high priority for some Milwaukie residents since 2007 and it was the impetus behind the formation of Bike Milwaukie, a volunteer group aimed at getting people riding and engaged with bike issues. Matt Menely, a co-founder of that group, credits citizen activists who voiced support for the project as a key step in making this project a reality.
Earlier this year, the project also earned the attention of the Bicycle Transportation Alliance when it was chosen as a priority in their Blueprint report. The City of Milwaukie is also behind the project. It's identified as a high priority in the City's Transportation System Plan (TSP). In their application for the project, the City wrote that Monroe is a "key east-west bicycle route across the City and also important for pedestrians as a connection through several neighborhoods and downtown Milwaukie." The City also wants to make changes to Monroe Street in order to "increase non-vehicular options for residents."
The BTA is advocating for the project because Monroe is parallel to busy SE King Street and it connects directly to destinations on 82nd Avenue, a MAX station and the I-205 bike path. "With neighborhood greenway treatments," writes the BTA, "Monroe could become the much needed east-west route for families and less-experienced riders."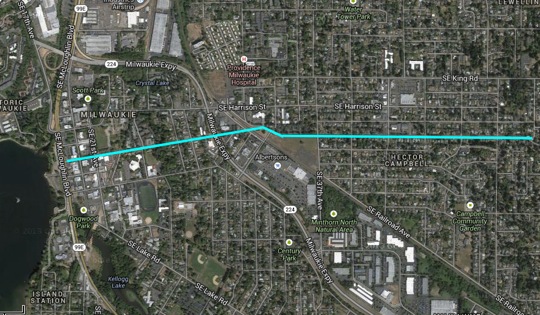 Monroe (in blue) would be a key east-west connection through the heart of Milwaukie.
In just over two miles, the Monroe project would connect five of Milwaukie's seven neighborhoods stretching from the Willamette riverfront, through downtown, and east to the Linwood neighborhood. "It can really bring the town together," said Bike Milwaukie's Menely, "it connects the east side where people live to the west side where the river, library, farmer's market, high school, and all the other destinations are."
This grant won't fund construction, but it will do something just as important: Allow city staff to begin a conversation with Milwaukie residents about what a neighborhood greenway is and how it will make a positive impact on the city.
Milwaukie City Councilor Mark Gamba is a daily bike rider who has been a key champion of the project. "It's great," he said today in an interview about the grant, "Older folks in the neighborhoods along Monroe have been concerned about the concept of the greenway, what it means, and how it will impact their lives. 'Will it mean I can't park in front of my house?' they wonder. Having this money will allow us to go through a process with them that will help them understand they'll get an end product that will make their lives better."
Gamba says the Monroe project is also key because it will be the first significant on-street improvement in bicycling conditions Milwaukie has built. "And it's only part of a system that we need to build," he said, "there's 3-4 other neighborhood greenways that we need to get in as well so that people can get around town on bikes."
According to Gamba and Menely, a lack of information about neighborhood greenways among some residents has led to a lot of misunderstandings and misinformation. "Once we have one and people see that it's making the neighborhood happy and not ruining people's lives," says Gamba, "it'll be easier to get another one in."
As for the prospects of funding construction of the project, that's still down the road (it's unknown how much it would cost to build, since the design hasn't started yet). Gamba said he'd like the project to be part of a bond initiative currently being discussed at City Council. "The rest of council wants us to use the bonds to pay for our light rail debt," he shared, "but I'm suggesting we should be doing a bunch of project citizens have been asking for, including the greenways."