Posted by Michael Andersen (Contributor) on August 16th, 2013 at 9:43 am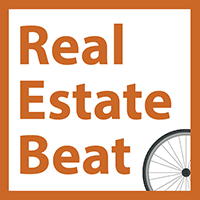 Homebuilders have discovered low-car life in Portland. But until now, nobody's made a comprehensive effort to help Portlanders locate low-car homes.
Today, BikePortland is kicking off a project to change that.
Three weeks ago, we laid out one of the biggest problems in Portland right now: it's had a chronic shortage of rental housing for the last six years, leading to rapidly rising rents and powerless tenants.
The following week, we explained why the Portland real estate market has been shifting so fast toward low-car life: households that include more adults than they do automobiles account for an estimated 60 percent of Portland growth since 2005.
Today, we're taking the first crack at something a little more concrete: a map of 60 buildings permitted since 2006 — 5,108 housing units among them — that were designed with low-car life in mind.
Click on a pin for details. Buildings marked in green have no on-site auto parking;
buildings marked in yellow have auto parking, but less than one space per unit.
(Data from Portland Bureau of Planning and Sustainability, as of February 2013)
Some of the buildings on the map above, mostly the ones from before the 2008 lending collapse, are condos. Others, mostly the newer ones, are apartment buildings. All of them are color-coded by the amount of on-site auto parking, because that's the simplest available measure of whether a building is intended to cater to people who get around by bike, foot and transit.
One note of caution: These pins show building permits that were issued as of February 2013, not necessarily buildings that have been built. If you see any whose plans have changed, let us know.
The buildings on this map are all very new. Therefore, the rooms inside them aren't renting for rates most Portlanders would call cheap: like new cars, new rental units usually peak in price just after construction.
"New construction, it just is more expensive to begin with, and then those structures will filter down over time."
— Kevin Shively, Nelson\Nygaard
"Those units are going to be on average more expensive than older units," said Kevin Shively, an associate project planner for transportation planning company Nelson\Nygaard who has been studying the West Coast's boom in low-car housing. "That's true with or without the parking. … New construction, it just is more expensive to begin with, and then those structures will filter down over time."
Even so, for Portlanders who don't always need quick access to cars, a building with minimal auto parking on site will generally tend to offer the best deal at a given quality and location. That's because the huge cost of setting aside space for on-site auto parking adds $50 to $300 a month per unit to the rent a developer must charge to break even.
And that leads us to the reason this subject matters to Portlanders who ride bikes. By making it possible for more homes to be built in the central neighborhoods of our city, these buildings are creating a larger supply of a good that's in very high demand: a home in a bike-friendly neighborhood of Portland. Just as surely as a big new bike lane on a busy street, these new homes are increasing the percentage of Portlanders with access to good biking.
This is why we're starting a new project, as part of our real estate beat, to systematically create a directory of apartment buildings in Portland, new and old, that have low auto parking ratios, and possibly one or two other key characteristics. Once we figure out exactly which buildings should be in it, here's what this directory might let us do:
Give low-car Portlanders a list of buildings at many price levels where they're likely to find like-minded neighbors.
Give apartment buildings that care about bikes an easy way to communicate this to prospective tenants.
Reduce the annoyance to neighbors that would come if these apartments filled entirely with car owners, by making it easier for low-car Portlanders and these buildings to find each other.
Map the connection of these apartments to bike infrastructure, so we can show how bikeways are part of urban development.
Create a BikePortland housing index of vacancy rates at low-car apartment buildings citywide, helping test whether these buildings are in demand and cluing us into trends in the market.
Gathering data is time-consuming, so the trick to making this index work will be to build it out of housing information that's useful but not too hard to gather. So though we won't be able to include every bit of information about an apartment building that would be nice to know, we'd love to hear your suggestions for what elements we should include.