(Image courtesy Nick Falbo.)
Southeast Portlanders are split over how to handle a big choice for the Lents area, surrounding the intersection of 92nd Avenue and Foster Road: keep Foster at its current four standard vehicle lanes, or cut it to three in order to add bike lanes and wider sidewalks?
Or, put another way: if a redesigned Foster Road needs to transition from three to four auto lanes somewhere, should that happen east of Lents, west of it, or two blocks from the middle of its commercial area?
The project's Stakeholder Advisory Committee meets tonight to hash it out, so we thought it was time to get you up to speed about the options and hear from a few members of the committee…
Here's how Foster is designed now between 80th and 90th avenues (apologies for the low-res graphics):
Last month at an open house the city shared a few other concepts for this stretch of street, one with buffered bike lanes:
One with three lanes, bike lanes and auto parking:
And one with four auto lanes, no parking and a narrow bike lane: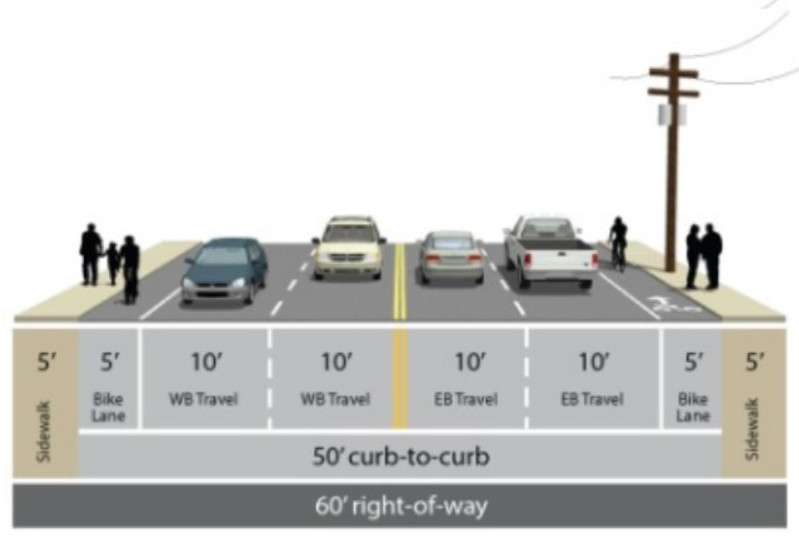 In a blog post earlier this month, Foster area resident Nick Falbo argued that if Lents stakeholders don't achieve consensus soon, they'll lose out on a precious chance to win city dollars that could improve their stretch of road. Falbo, for his part, thinks the answer is three auto lanes throughout.
"Three lanes west of 82nd and four lanes east of 82nd will only exaggerate the barrier that 82nd presents and strengthen the divide between our neighborhoods," Falbo wrote.
Nick Christensen, chair of the Lents Neighborhood Association and one of Falbo's colleagues on the Foster stakeholder advisory committee, agrees that changing the lane alignment will draw a line through the neighborhood — which is exactly why he thinks Foster should retain four auto lanes not only in Lents, but into central Portland, too.
"I hate the situation where the last passing lane is in the middle of our business district," Christensen said in an interview Wednesday. "If there is a road diet, if we are going to go ahead with three lanes, there is going to be a point where there is a last passing lane to go in and and first passing lane to go out. … Some people will make choices that are irresponsible in their cars."
Christensen, who was speaking for himself because the neighborhood association hasn't yet weighed in, said his preference is for the city to invest in sidewalks on Foster, not bikeways.
Nick Christensen chairs the
Lents Neighborhood Association
and sits on the Foster
Road stakeholders committee.
"I think there are ways to get cyclists around on that area without putting them on Foster Road," Christensen said. "I'd like to see 10-foot sidewalks; I'd like to see street trees; I'd like to see benches and lights."
Improvements like those would be far more expensive than restriping street lanes, of course. But as LNA member Cora Potter pointed out at last month's open house, the most dangerous part of Foster is east of 80th Avenue, yet the city's current plan is to make most of the changes west of 80th.
"Things are bad along the sidewalks in that area," Christensen said. "No doubt about it. Drivers are driving too fast."
But Christensen said he thinks cars are too important to Lents for the city to remove an auto lane.
"24,000 people a day are choosing to use their cars to get somewhere," said Christensen. "I'm fortunate that I have a job that enables me to commute by transit, but I know that a lot of people in my community aren't that fortunate. … For those people who have a 45-minute car commute, and there's a lot of them, adding 5 minutes a day to that or 10 minutes a day to that is not welcome."
"For those people who have a 45-minute car commute, and there's a lot of them, adding 5 minutes a day to that or 10 minutes a day to that is not welcome."
—Nick Christensen, Lents Neighborhood Association
Christensen said he hopes Lents will one day have more local jobs and better public transit, reducing the pressure for its residents to own cars, but he personally thinks the neighborhood is "not there yet."
"The things that get people out of their cars because they choose to, not because they're forced to — those are the things that set up the situation," Christensen said.
Falbo, meanwhile, takes the view that people will be unlikely to choose bicycles or other modes until the city prioritizes those modes over auto traffic by making Foster Road more "neighborhood friendly" instead of "highway style."
The Foster Streetscape Plan Stakeholder Advisory Committee's next meeting is tonight from 6 to 8 pm at SE Works, 79th & Foster. If you're a Lents-area resident with thoughts about the direction the area should take, you can contact Christensen (nick@ilovelents.com); Potter (cora@ilovelents.com); Falbo (nick@fosterunited.org) or their colleague Adam Simmons (adam@lentscreative.com). For more general thoughts on the streetscape project, the city project manager is Mauricio Leclerc (mauricio.leclerc@portlandoregon.gov).