This is part of ongoing coverage of the Green Lane Project/Bikes Belong Netherlands Study Tour.
Hey everyone. Thought it would be a good time to check and let you know what's happening with my trip. As you might have gathered, I was in Copenhagen last week. Over the weekend I traveled to Amsterdam for a few days prior to meeting up with the Bikes Belong/Green Lane Project study tour delegation in Utrecht.
It's been great meeting everyone in the 12-member delegation (and three Bikes Belong staffers). It's a stellar collection of folks. Joining me to represent Portland is Executive Director of Venture Portland Heather Hoell, BTA Advocacy Director Gerik Kransky, and Metro Councilor Sam Chase.

We begin our week together this morning with a bike tour through Utrecht. Also today we'll hear from experts on cycling in the Netherlands and visite Leidse Rijn, a new development in Utrecht. According to our official (you can check it out here via PDF), the development will provide a good example of, "how current transportation thinking and urban policy is shaping development in a fast-growing region."
In addition to Utrecht, our trip will include stops in 's-Hertogenbosch, Rotterdam, Delft, and of course, Amsterdam.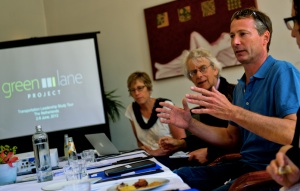 Metro Councilor Sam Chase at
our orientation meeting last night.
I had hoped to do a bit more coverage of Copenhagen prior to starting the study tour, but I haven't gotten to it yet. It's always a difficult balance of soaking up as much of the experience as possible, while also shutting myself in a room and making stories and sharing photos. That being said, I still have some things to report about Copenhagen and you'll definitely hear more from me about it.
My stopover in Amsterdam for the past few days was simply magical. What a fascinating city for cycling! I have some photos and thoughts to share about the social and stylish side of its cycling culture that I plan to share later today. Our trip ends in Amsterdam at the end of the week and that will give me a chance to see it from a more wonky/policy perspective.
I hope you are enjoying the stories and photos so far. Like everyone told me before I got here, I have been simply blown away. While I knew what these places were like on an intellectual level, experiencing them in person has forever altered my cycling consciousness and has given me amazing new perspectives.
I also think we should give a shout out to Michael Andersen, my new partner in crime who has been doing a great job back in the office while I'm away. Thank you Michael!
Stay tuned and I hope all is well in Portland.
Jonathan Maus is BikePortland's editor, publisher and founder. Contact him at @jonathan_maus on Twitter, via email at maus.jonathan@gmail.com, or phone/text at 503-706-8804. Also, if you read and appreciate this site, please become a supporter.