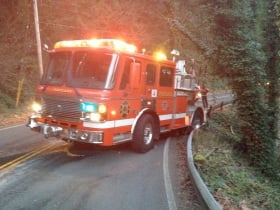 A Portland Fire & Rescue truck slid on ice
on Sam Jackson Park Road yesterday.
(Photo: PF&R)
A man crashed while bicycling downhill on SW Sam Jackson Park Road yesterday. Then, when Portland Fire & Rescue responded to the crash, their fire truck slid on the ice and smashed into a guard rail.
According to Portland Fire & Rescue, the crash happened during yesterday's morning commute. When they arrived, the man who crashed his bike was up and walking around. Here's more from PF&R about the conditions that led to the crashes:
"The ice was reportedly caused when the drainage along the side of the road became blocked with leaves. This caused water to flow over the roadway and subsequently the cold weather created ice."
Sam Jackson Park Road is a narrow and windy road that leads directly up to the hospitals and campus buildings of Oregon Health & Science University. Anyone that's ridden it knows the road is prone to getting wet from runoff in the heavily wooded areas around it. When temps drop, that water turns into ice.
A reader that emailed us yesterday about this crash feels people on bikes should avoid using this road both for ice and other reasons:
"… Cyclists really should avoid this road both up and downhill. Ambulances use it as the primary route to the emergency room and cars swing wide around the corners so a downhill cyclist runs a pretty high risk of getting struck head-on. I know I won't be using this route any more myself."
John Landolfe, the transportation options coordinator at OHSU, says they put out an alert to bike program members about the conditions on Sam Jackson. As a detour, he recommends using SW Terwilliger and the Aerial Tram. "Sam Jackson Park Road is just too steep, narrow, and shaded for two wheels in freezing temperatures," says Landolfe.
Luckily, no one was seriously injured in the incidents yesterday; but they are an important reminder that chilly temps lead to slippery, icy roads and that you should avoid riding on Sam Jackson Park Road during freezing weather.
Contact Jonathan at @jonathan_maus on Twitter, via email at maus.jonathan@gmail.com, or phone/text at 503-706-8804. Also, if you read and appreciate this site, please become a supporter.