Researcher Kelly Clifton at a presentation at City Hall today.
(Photo © J. Maus/BikePortland)
Portland State University researcher Kelly Clifton has shared more detailed data on her research into how mode choice impacts spending behaviors. After talking to Clifton at the outset of her research and then sharing some initial findings back in July, I learned more about her findings at the Bureau of Transportation's monthly Bicycle Brown Bag discussion series held at City Hall today.
According to data from 1,884 surveys taken outside various establishments, non-driving customers — those who show up by bike, on foot, or via transit — are often more valuable in terms of dollars spent than customers who arrive in a car. This data flies in the face of the often heard perspective that automobile access should be the highest priority to ensure business success.
With their project, Consumer Behavior and Travel Choices: The Impacts of Cyclists, Clifton and her research assistants set out to:
Quantify which transportation modes people use to get to supermarkets, bars, restaurants (high turnover places like pizza and mexican food), and convenience stores.
Determine what impact, if any, the built environment had on mode choice.
Compare levels of spending and frequency of visits by mode.
The study collected surveys from people at 89 different locations throughout the Portland metro region in everything from suburban areas to the central business district. They collected information on demographics, how much money people spent, how often they visited, how far they traveled, and more. While driving a car was the dominant way people arrived at the locations, the spending patterns once people arrived tells a much different story: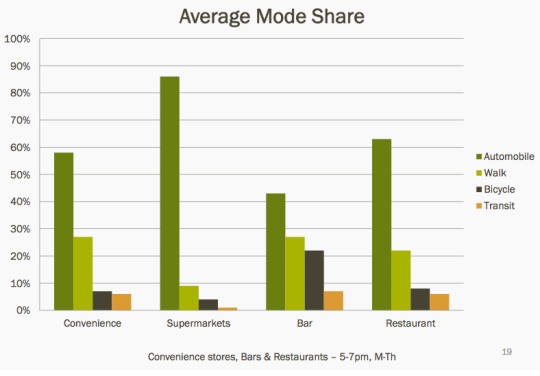 The average trip distance revealed some interesting nuggets. Check out the chart below and you'll see that on average, people who took transit traveled further than those in cars. Clifton also points out that conventional wisdom among planners is that people won't walk further than 1/4 mile to a destination. By contrast, her data shows people walked on average 0.7 miles to their destination:
While most people arrived by car, when it comes to average spending by mode per visit, we see the differences by mode are much less pronounced. On a per visit basis, car-driving customers only hold a significant lead in spending at supermarkets:
And then throw in frequency of visits and we see a much different story. Across all four location types, biking, walking, and transit using customers make more visits than those who drive: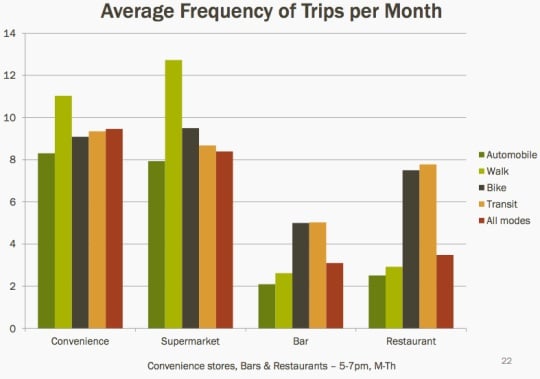 When it comes to total spending per month, those more frequent trips add up and they make biking and walking customers highly competitive with driving customers. In fact, at bars, convenience stores, and restaurants, customers who show up by bike spend more per month than those who arrive by car:
To understand more about the data, the researchers controlled for various factors. One of the more eye-popping datapoints was that, on average, people who walked to a bar or restaurant spent about $4 more than any other mode. Also of note was that, when the survey respondents were controlled for income, there was no significant difference between biking and driving customers.
Clifton's research also looked at how the quality of adjacent bikeways impacted bicycle mode share at bars and restaurants. The results show that for every mile someone has to bike in a "caution area", the business will see 3% lower bike mode share. The data also showed that for each mile away from a bike facility on a low-traffic street, bar and restaurant owners can expect about a 5% reduction in bike traffic. What impact does bike parking availability have on attracting people on bikes? For every one bike staple installed at a bar or restaurant, Clifton found that bike mode share goes up about 0.5%. If a bike corral is within 200 feet, the bike mode share goes up by 6-7%:
In the end, this research raises almost more questions than it answers. Why do people go out for drinks so often by bike?! Is the higher frequency and greater monthly spending by non-driving customers the "green dividend" phenomenon at work? Or, is it too simplistic to see the world in such clear modal divisions? Even Clifton noted that the "single-mode patron is rare" and that most Portlanders use many different modes to get around.
From a bike perspective, one thing seems pretty clear: Portland business owners and city planners who want to improve their bottom line would be smart to make commercial districts as bike-friendly as possible.
— Clifton's research was made possible through a grant from the the Oregon Transportation Research and Education Consortium (OTREC) with support from the Portland Bureau of Transportation, the Portland Development Commission, Travel Oregon, Metro, and Bikes Belong. To download Clifton's presentation, check out the PBOT Bicycle Brown Bag website.