One of four frames taken.
(Photos: Renovo)
Renovo Hardwood Bicycles, a bike manufacturing company located in inner southeast Portland, was broken into over the weekend. Four of their high-end frames with a total retail value of $13,900 were stolen. Now the company is offering $2,000 in rewards for information on the thieves and the return of the frames.
Employee Drew Nasto says the thieves were pretty clumsy. First they attempted to scramble up over a roll-up door via a ladder, table, and two stacked garbage bins — only to realize there was no ladder on the other side. After they aborted that attempt, Nasto says they used a shovel to pry off a door handle to enter the building. The alarm sounded immediately, "which gave them only enough time to grab four finished frames from a rack by the door and run," he shared.
Nasto says they'll give $1,000 to anyone who offers information that leads to the arrest of the thieves and another $1,000 for the frames.
Renovo's bikes are very unique and made of exotic hardwoods. Nasto sent over descriptions of the four bikes:
R4 Wood: Purple heart, port orford cedar. Serial # R4210
R4 Wood: Curly maple, wenge and padauk. Serial # R4112
R3 Wood: Purpleheart and curly maple. Serial # R3138
Elwood Wood: Fir, wenge and burbinga Serial # EW130
Here are a couple more frame photos that Nasto says are similar to the ones stolen (note, only frames were taken, not complete bikes):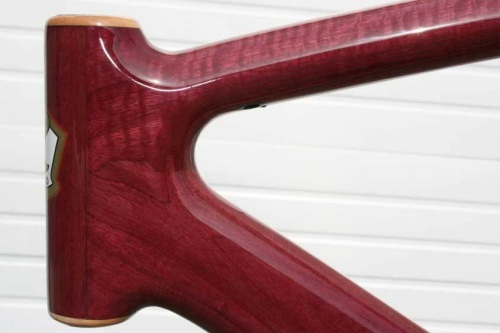 Please keep your eyes peeled and contact Renovo if you have any information.