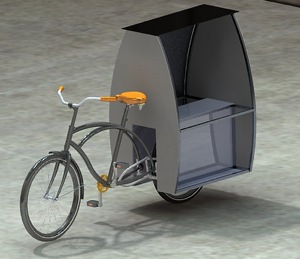 Portland Pedal Power's cargo enclosure.
Portland Pedal Power is a local bike business that delivers food, beer and wine, groceries and other products throughout the city. Their fleet consists of Yuba Mundo longtail cargo bikes with custom made enclosures that attach to the rear racks.
The enclosures are a nifty way to hold cargo and they have a highly visible presence on the road.
In the nearly five years they've been in business the enclosures have gone through many iterations and design refinements. Now, after receiving many inquiries about them from other local businesses, Portland Pedal Power is selling them as a stand-alone product.
(Photos: Portland Pedal Power)
In addition to the Yuba Mundo, company founder Ken Wetherell says their enclosure is compatible with any bike that uses the Xtracycle kit or any bike built to the Xtracycle Longtail Open Standard (like the Surly Big Dummy, Sun Atlas Cargo, and many others). The enclosure is attached via Portland Pedal Power's own "quick mount system" which Wetherell says enables one person to install or remove it in about a minute or less without tools (They've developed a fact sheet (PDF) with more technical details.)
For Wetherell, the goal of his company has always been to replace delivery trucks, so the evolution of the enclosure has been a focus of his business. "We wanted to create a viable alternative to gas powered vehicle based delivery," says Wetherwell, "so we made sure that there was sufficient capacity, security and protection from the elements."
The enclosures are made with an aluminum frame, corrugated polypropylene panels, and wooden shelves.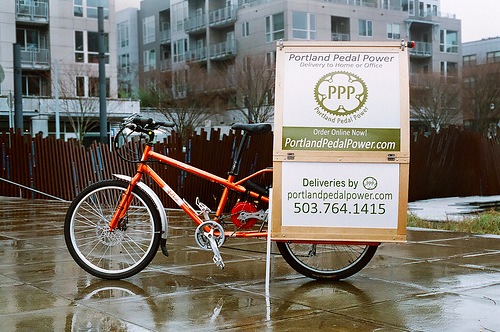 In addition to utility, the enclosures can turn a bike into a rolling billboard and sandwich board. If you're interested in buying one or have questions, email info [at] portlandpedalpower [dot] com.