Joe Partridge at the finish.
(Photos: Ellee Thalheimer)
Months ago, scores of endurance racing enthusiasts jumped at the chance to snag one of the 100 slots at the eighth annual Trans Iowa endurance race. When it started on Saturday, only 75-80 people actually showed up. When it was over, only 19 of them managed to finish.
One of those finishers was Portlander Joe Partridge. Joe finished in second place in the single-speed category mostly because he's totally badass. I'm partial though. He's my husband.
Last weekend I went to Grinnell, Iowa to witness and support Joe and his friend Dan Jansen as they attempted this grueling, 330-mile gravel road race.
The Trans Iowa physically and mentally breaks down most of its participants each year, leaving very few finishers. Time cutoffs require riders to average 10 mph the whole race, support people are restricted from the course, and riders are completely self-supported, only resupplied with gnarly vittles from rural convenience stores.
"I have heard stories of Trans Iowa riders lying down in ditches, cycling without feeling their hands, and crumpling into useless piles of flesh outside of convenient stores at 3 am."
Excitement buzzed in the air as I drove Dan and Joe to the start line on that misty, bone-chilling, 39 degree morning at 3:40am. For six months previous, Joe had clucked over each little detail of his bike and strategized every calorie. Once, he rode his trainer for eight hours straight.
Grinnell's little main street was completely deserted except for spandex-clad riders and a handful of bleary-eyed support people (my favorite was an incredulous wife in her pajamas).
It wasn't a glamorous send off. But, then again, Trans Iowa is not a glamorous race. It costs nothing to register, and there is no prize money. It's bare bones, with no flashy antics. At the end of the race, Guitar Ted (Mark Stevenson, the organizer), DNFers, and support people take pulls off of whiskey and wait in the grey cold for riders to arrive behind the Grinnell High School.
Finishers look forward to washing an inch of salt and dirt off their face, sleeping, then peeling a layer of skin off their butt after a couple of days. They take away only a deep knowledge of their pain closet, a huge respect from the gravel grinding community, and an awareness that they have the ability to accomplish a Herculean feat.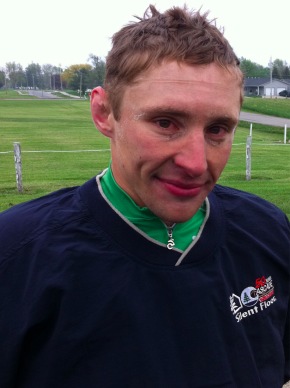 Charlie Showalter at the finish.
I have heard stories of Trans Iowa riders lying down in ditches, cycling without feeling their hands, and crumpling into useless piles of flesh outside of convenient stores at 3 am. With these savory thoughts in mind, I kept close tabs on the race and constantly checked for texts.
This year, the first fifty miles of the race were sheer brutality: tons of climbing, 20-25 mph headwinds, peanut butter "B roads," 40 degree rain. After the first checkpoint, the roads and weather improved. Riders started going fast. Day faded to night. I heard word that Joe and Dan teamed up with a group of riders to get through the night—a time when quitting becomes a scantily dressed siren.
In the dark of night, Joe and another single speeder duked it out for hours, hill after hill, racing for second place single speed. With Dan by his side, Joe dug deep and lost the other single speeder. Those hard efforts only led them to the last 50 miles: the gnarliest, leg-ripping part of the race with relentless mega-rollers, headwinds, and unmaintained B roads. Riders were struggling to go 8mph. Lead riders dropped like flies.
Waiting at the finishing line was excruciating. Due to a busted drive chain, sixth place finisher Charlie Showalter doggedly scooted his bike for the last seven miles and epitomized the hardcore spirit of Trans Iowa. The finishers looked haggard, a little drunk, but proud.
With only 50 minutes till the 2 pm cutoff time, Dan and Joe hadn't arrived. Just when I was about to start taking slugs of whiskey, they emerged on the horizon. The Rocky theme music seemed to play in the background. Dan got 13th place overall, and Joe snagged second place single speed.
Each finisher overcame an incredible test of mental and physical endurance. It was awesome to witness. Congrats to each finisher, as well as to all those who had the guts to attempt the Trans Iowa.
— Gravel racing is booming in popularity. If you're a gravel fanatic in Oregon, or if you're just gravel-curious, check out Velodirt.com.
[Ellee Thalheimer is the author of Cycling Sojourner: A Guide to the Best Multi-day Tours in Oregon. Join her for the big release party on May 8th at River City Bicycles (6:30 – 9:00 pm)]