Bike train coming through.
(Photos: Bill Griesar)
Just got a wonderful email from Kiel "Bike Train" Johnson with a photo essay from Sabin K-8 School parent Bill Griesar. Bill was named Bike Train Conductor of the Year last year and the bike train he led this morning (in the rain no less) swelled to 102 people by the time it reached the northeast Portland school.
Bill emailed Kiel a photo essay to share this morning's bike train and I thought you'd like to see it too (text and photos below are by Bill Griesar)…
—
OK, so it started small…
Then it began to grow…
And grow…
And grow…
And (I'm not kidding here) GROW!
We had 45 students on the Northern bike train alone when we finally headed down the 20th Street hill to school! After the Southern train rolled in, and we'd counted our informal bike train riders, we had a grand total of 102!!!! (and it was raining)
Many thanks to 4th grade teacher Vangie Shaw, and her able student volunteers, who offered hot drinks…
By the time the bell rang, there was no parking left – for bikes! : )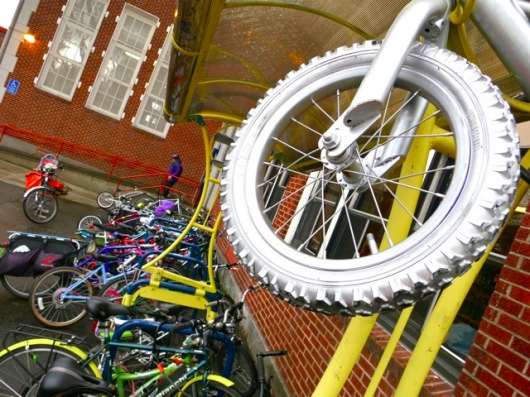 ---
This is great to see. Nice work Bill and Kiel, and all the students and parents at Sabin who are getting on the bike train. For more local bike train news — including news that Sabin is competing in the first-ever National Bike Train Competition with a school in Temecula, California — check out BikeTrainPDX.org.
Jonathan Maus is BikePortland's editor, publisher and founder. Contact him at @jonathan_maus on Twitter, via email at maus.jonathan@gmail.com, or phone/text at 503-706-8804. Also, if you read and appreciate this site, please become a supporter.