Posted by Jennifer Haliewicz (Contributor) on April 3rd, 2012 at 3:55 pm
Riders await the start of the Friday the 13th Alleycat in northwest Portland back in January.
(Photo: Brenton Salo)

Portland is well-known for its support of all aspects of bicycling, including the underground races known as alleycats.  Originating in bike messenger culture, particularly on the East Coast, these races are fast, fun, and usually take place in urban areas. If you haven't participated in one yet, consider this a primer with some suggested events to check out this coming spring and summer. If you don't think alleycats are for you, remember that despite the fact they're typically associated with stereotypical "fixie kid" scene, they are accessible to anyone and usually draw a mixed crowd.
Before I go on, the issue of following traffic laws should be addressed. Lawbreaking is not condoned in the races, but some people do run traffic lights, stop signs, and so on. It's a personal decision. Personally, in races, I follow laws, but I know people who do and others who choose not to.
Here's how alleycats work: Racers meet at a given location, sign up, and are given a list of checkpoints known as a manifest (the same name given to a bike messenger's list of stops). Racers must reach each location (sometimes complete a task) get "signed off" and then race to the end point. Prizes usually consist of a portion of the entry fees and there is often a gag prize for last place as well.
In Portland, alleycats have proven popular. There are already several events on the calendar, with even more to come as the weather warms up.
Typically, races are organized by one or two people and made possible with the help of volunteers and sponsors. Joshua Diep-Anderson is one of those organizers who has multiple events under his belt, including several "Friday the 13th" street races. His next event, the Friday the 13th Out and Back Rally Cat, is slated for Friday, April 13th.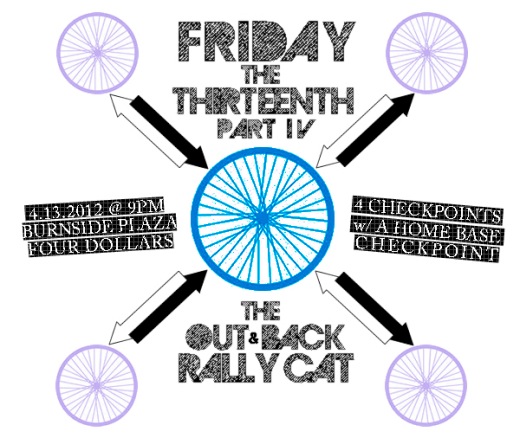 Josh has held his informal race every Friday the 13th since August of 2010. In the past, the events have been two-block, one-on-one single-elimination sprint races. However, during a recent chat, Josh told me his event next Friday will be "an unconventional alleycat".
What's so "unconventional" this time around? Unlike a typical race, racers will return to a central "hub" between each of four stops, creating a more lap-like feel. In true alleycat form, the race will be held in a small area, with each checkpoint within one-mile radius of each other.
The Friday the 13th Ralley Cat begins at 9:00 pm at the Burnside Plaza (east side of the bridge). Race entry is $4, and the winner gets 50 percent of the entry cash, and their choice of a Chris King headset or bottom bracket. Helmets and lights are encouraged but not required.
Another upcoming event:
– Smarty Cat – Alleycat Race and Trivia, April date and location TBA with a $5 entry fee. In this event's first installment, racers were required to reach and take a photo at 10-15 different landmarks or signs within a two-hour period of time, each one with a set theme. Following the actual race, everyone will be required to participate in trivia, with each question corresponding to a theme in the race's checkpoints. Points from both parts of the event will be totaled, and the team with the most wins. Prizes will include a portion of the entry cash, and whatever else the host is able to find.
Manifests fly as racers begin an alleycat in Waterfront Park. In this race, competitors lined up with one shoe off and then had to put the other one, grab a flying manifest, and run to grab their bike before riding off.
(Photo: Kevin Talley)
If you're still curious about alleycats… Just show up and see what they're like for yourself. They give anyone the opportunity to experience a totally different aspect of our local bike scene whether or not you're the competitive type. So come check one out and remember that even last place gets a prize!