Posted by Jonathan Maus (Publisher/Editor) on March 14th, 2012 at 10:47 am
The Columbia River Crossing project has announced a minor detour for bicycle traffic near the project area during a "pre-construction test project." The detours will begin "mid-March" and last about 3 1/2 months. See the detour maps and the full advisory from CRC below:
Temporary routes for pedestrian and bicycle traffic to begin mid-March

Cyclists and pedestrians traveling through the CRC project area will experience minor construction detours as the CRC conducts construction techniques testing starting in mid-March. A pre-construction test project will occur at two locations just west of the I-5 Bridge near the I-5/State Route 14 interchange in Washington and near the Hayden Island interchange in Oregon. Construction chain-link fencing will be placed around the work zones and large cranes will be visible.

Temporary detour routes will be clearly marked at both work locations, with flaggers/spotters present during all work hours.

In Oregon, the temporary route will only affect bicycle and pedestrian traffic destined for points on the west side of I-5 on Hayden Island.

In Washington, the east lane of SE Columbia Way will be shifted between the Interstate Bridge underpass and West 3rd Street. In this location, pedestrians will be directed to cross SE Columbia Way to the sidewalk on the west side of SE Columbia Way; bicycle traffic will merge with vehicle traffic for this short distance.

The project could take up to 14 weeks to complete with work occurring in daytime and night-time hours. All work is expected to be complete by summer 2012.

Work zone safety is a vital component of any construction project. Drivers, pedestrians and cyclists are responsible for staying alert and obeying traffic laws, signage and flaggers. Most importantly, slow down when traveling in work zones.
And here is the detour map for Washington side: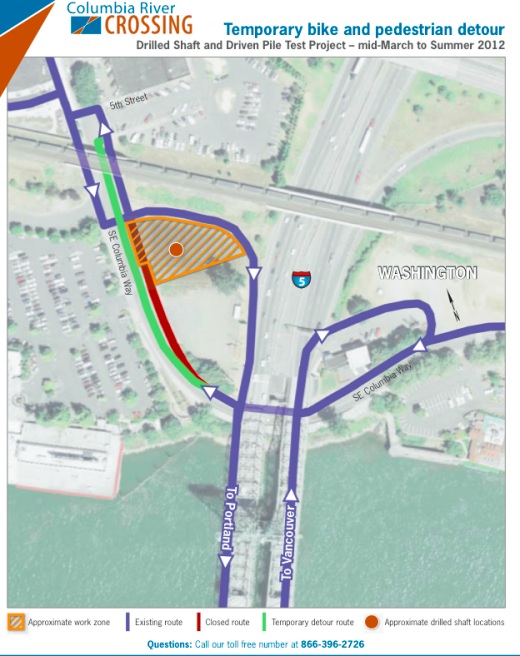 And map for Oregon side: