Posted by Jonathan Maus (Publisher/Editor) on March 3rd, 2012 at 10:36 pm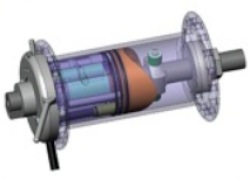 The Pump-Hub by Kevin Manning.
The bike industry is full of people with big passions and big ideas. Often at industry shows like NAHBS, these garage innovators don't have the money to buy official exhibit space. Instead, they'll tuck their new product into a backpack and carry it through the aisles, eager to show it to anyone who takes the time to stop and listen.
On Friday, a friend tracked me down and introduced me to Kevin Manning, inventor of the Pump-Hub. I stopped and listened and here's what I found out…
Manning has a degree in mechanical engineering and he used to design and manufacture groundwater environmental clean-up pumps for a living. When he sold his business in the 1990s, he turned his attention to developing bike-related products.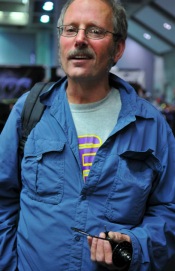 Kevin Manning
The Pump-Hub has been in development for several years. Manning makes the entire unit himself and it consists of a hub-shell with a pump inside that attaches to an air house that attaches directly to an inner tube valve. Once attached and set, the rotation of your wheel moves the pump, which pushes air into your tire.
Manning says the hub can inflate a tire up to 125 psi. It will automatically shut off at any desired pressure (you can set it via a lever on the hub flange). Basically, once you install the hub, you just attach the hose to your valve and then forget about it.
"While looking at a bike pump," Manning says, "it occurred to me that the easiest way to pump up a tire would be to not have to pump it up at all – to use the wheel and its rotation to do the work for me."
With bike-sharing systems catching on around the country, Manning thinks that after many years of toiling in obscurity, his time might have finally arrived. He's currently working to have his Pump-Hub installed as standard equipment on bike-share bikes and other bikes that are used in a rental environment. Learn more at Pump-Hub.com.
— This is part of BikePortland's special coverage of NAHBS 2012. Read more stories and browse more images here.
Jonathan Maus is BikePortland's editor, publisher and founder. Contact him at @jonathan_maus on Twitter, via email at maus.jonathan@gmail.com, or phone/text at 503-706-8804. Also, if you read and appreciate this site, Jonathan hopes you'll become a supporter.