Posted by Will Vanlue (Contributor) on March 1st, 2012 at 3:07 pm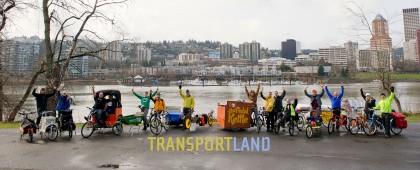 Portland businesses hope to feature their cargo bikes in the Grand Floral Parade.
(Photo courtesy Transportland.org)
A fledgling local group that has come together to promote cargo bikes is working hard to nab a spot in the upcoming Rose Festival Grand Floral Parade.
Transportland (say transport – land), is a new group founded by cargo bike enthusiast Travis Wittwer. Wittwer has corralled an impressive list of local, cargo-bike based businesses and has filed an official application with Rose Festival organizers.
Over the weekend a group of bike business owners assembled on the Eastbank Esplanade to pose for a group photo and practice their parade routine. With the deadline for parade entries rapidly approaching, they didn't have a chance to film a dress rehearsal for their entry but they did put together an "animated" version of the routine using Wittwer's drawings:
Keep an eye on Transportland.org or the group's Twitter feed to find out if they make the cut.