Posted by Jonathan Maus (Publisher/Editor) on October 3rd, 2011 at 2:13 pm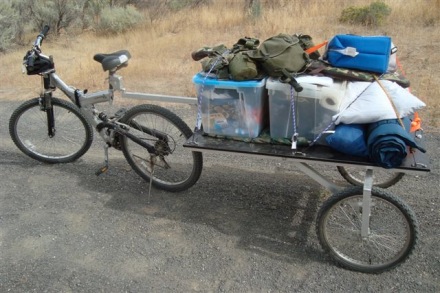 A Lone Wolf Trailer, photographed during a hunting/camping trip this weekend near the Biggs Junction/Deschutes River area in Eastern Oregon.
(Photo: Rocky Mackey)
You might not be aware of it; but hunters are a niche bike market. I learned this back at my days as sales and marketing director for Old Man Mountain pannier racks. We used to sell racks to hunters who used bikes to access the backcountry and who needed a way to carry their kill back out. Bikes are quiet and they can cover a lot of ground in areas where motorized vehicles are prohibited.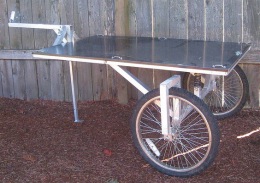 (Photo: Tom Labonty)
Now I turn your attention to Lone Wolf Trailers, a fledgling Portland company that's looking to build heavy-duty bike trailers that can withstand not only off-road cycling adventures, but can also carry over 400 pounds (whether that's an unlucky buck or camping gear) and double as a camp table.
Tom Labonty (of TomsCargoBikes.com) turned me onto these and I got in touch with company co-founder Rocky Mackey to learn more.
The trailers are made in Portland out of lightweight aluminum. As you can see by the photos, the trailer is freestanding when not attached to the bike, boasts high clearance and a suspension system.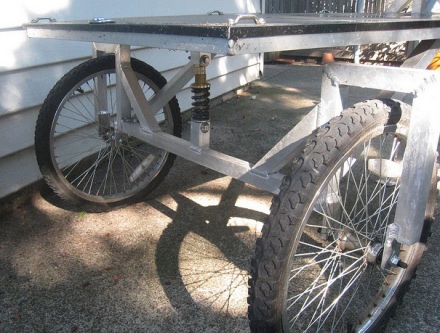 Lots of clearance and a 400 lb suspension spring.
(Photo: Tom Labonty)
Makes a handy camp table too!
(Photo: Rocky Mackey)
Mackey and his brother-in-law have been hunting for years, and they couldn't find a suitable trailer. After tweaking the design and trying out various versions over the past three years, they're now in the process of setting up a website and getting the word out.
Mackey says the trailers weigh in at about 35-40 pounds and he plans to start powder-coating them army green for camouflage in the woods.
Labonty, who knows a thing or two about cargo bikes, recently tested a Lone Wolf Trailer. "I'm not a trailer guy," he shared with me, "But this is a nice rig." Labonty said he loaded his up with eight boxes of clothes to take to the thrift store and "was surprised how well it rode."
"I also tried to flip it by going over curbs and sidways uphill," he added, "with no luck. It's built well and they put a lot of thought into stability."
Lone Wolf Trailers start out at $599.00 and go up depending on various features and builds. If you'd like Rocky to build you a trailer, give him a call at (503) 663-9037.