Jonathan Reed of Quixote Cycles
is confident in his entry and
can't wait to see what others
have created.
(Photo © J. Maus)
If you're not excited about the Oregon Manifest Constructor's Design Challenge yet, I have no other choice than to seriously question your love of bicycles.
Some of the most accomplished bicycle minds in the country have been working for months under shrouds of secrecy in their underground lairs to design and create the "Ultimate utility bike." What exactly does that mean? That's the fun part — How each individual builder and team defines that term will be one of the most fascinating things to watch for when the bikes are revealed Friday.
Will the entries include cargo bikes? Will anyone bring a folding bike? Will e-assist make an appearance? How will classic porteur-style bikes hold up against more innovative entries? Will one form of utility bike steal the show?

Oregon Manifest board member Shannon Holt didn't want to reveal too much about the entries, but she did tell me that, "It's pretty cool to see how everyone is meeting the design criteria in their own way."
With so many talented teams working together on these projects, we're assured to see some mind-blowing manifestations of bike innovation. I asked a few of our local builders what they've got up their sleeves and I've shared comments and photos below…
Quixote Cycles
A small-wheeled long-tail. Can't wait to see it all built up.
(Photo: Todd Fahrner)
Jonathan Reed of Quixote Cycles (and formerly of BikePortland.org) has formed a unique alliance with Todd Fahrner of Clever Cycles (a cargo and family-oriented bike shop). Reed told me yesterday that he and Fahrner had come up with similar design ideas independent of each other. "When we got to talking about it, it just seemed appropriate to team up." Clever is supplying the parts and Reed is doing the building.
Reed and Fahrner begun talking about their ideas last year. To help come up with the concept, Fahrner shared excuses he's heard from many of his customers through the years about why they don't use a bike for certain trips.
Reed describes their entry as a "small wheel, long-tail, step-through, cycle-truck with electric assist." "It's the next iteration of Todd's 'Xtravois' project," adds Reed, referring to Fahrner's ground-breaking longtail cargo bike he designed himself back in 2003.
While he's excited to see the other entries, Reed seems confident in what he and Fahrner have created: "I think we have a winning combo."
For more on the Quixote/Clever project, see this post on the Clever Cycles blog.
---
This is an early prototype.
(Photo © J. Maus)
I can't wait to see how bike designer Michael Downes and boat builder Jeff Sayler's plywood bike concept turned out. If you recall, I gave a sneak peek of their entry back in May.
---
Ira Ryan Cycles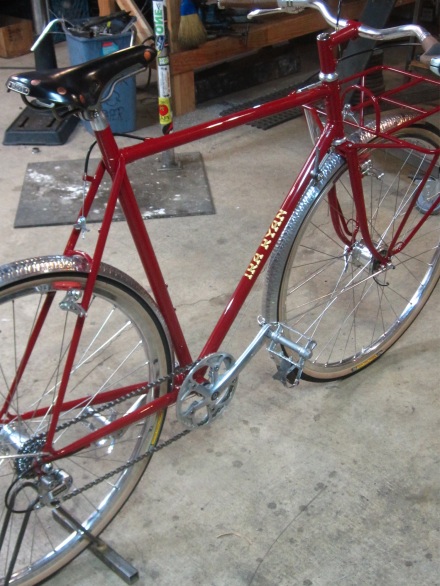 How will Ira's classic interpretation of the criteria stack up against other entries?
(Photo: Ira Ryan)
From this photo of Ira's entry, he seems to be taking the tried and true route, or what he refers to as, "Simple, elegant and almost painfully classic." Ira tells me simplicity was at the center of his mind as he created his bike. "I have a hard time adding features that in my opinion don't add real versatility to a bike and how it's used."
Ira adds that his entry is, "Easy to ride and use and designed for the maximum flexibility if you should happen upon a heavy bags of groceries or a backpack full of school books or a garage sale."
---
Pereira Cycles
Last year's winner, Pereira has some surprises up his sleeve this time around.
(Photo: Tony Pereira)
Tony Pereira, who won this competition when it was last held in 2009, opted to not share many details of his bike until the big reveal on Friday; but he did offer up a few hints.
"The bike builds on what I did last time with some additions that I've been thinking about since then. I felt like I really needed to live up to the 2009 win, so I may have gone over the top. We shall see on judgment day!"
---
Antload + Joe Bike
We'll have to wait until Friday to see more.
(Photo: Joe Doebele)
This team includes the duo of Joe Bike owner Joe Doebele and Mike Cobb. Joe says they've got something completely new up their sleeve and they've named it the "Byerley" after the father of XtraCycle founder Nate Byerley.
Joe also says that their entry isn't a longtail "as that's being thoroughly represented" and it's not a traditional longjohn/bakfiets cargo bike either — because he feels they've "been there, done that" already. Here's more from Joe:
"We chose to experiment with something new, compact, and eminently practical. It's intentionally not classical, retro, or anything that cries out to be called "ultimate" or "best." We're not trying to carry 6 kids or 600 lbs. of lumber. The notion of a linear relationship between cargo capacity and utility is as incorrect as it is simplistic, and will lead to underuse or no use at all. "
Design highlights of the Joe Bike/Antload entry include stainless steel tubing, 24-inch wheels, swiveling front/rear cargo decks and handlebars "for easy loading onto light rail and buses", low standover height so it's comfy for folks 5′ 2″ and up, and more.
---
As this small sampling of the entrants shows, the Oregon Manifest will bring out a diverse array of designs and ideas to the fore. Everyone I've spoken to about the show so far seems just as excited about seeing what others bring as they do about their own entry. I can't wait to see what else people show up with.
Event organizers have listed a detailed set of criteria (with several mandatory design features) that each entry will be judged on and each entrant will be required to make a 2 minute presentation to the judges.
Stay tuned for more coverage of the 2011 Oregon Manifest beginning tomorrow. For a more in-depth look at the creations of several other entrants, browse the Oregon Manifest Design/Build Chronicles over on Core77.