Posted by Jonathan Maus (Publisher/Editor) on December 15th, 2010 at 10:38 am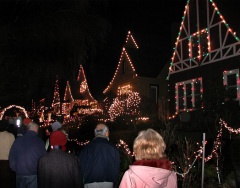 Ahh the lights.
(Photo: PeacockLane.net)
In the depths of winter, you need all the encouragement you can get to keep on riding. Thankfully, Portland is full of fun people and events to help break your winter riding doldrums. Two events tonight (and a group ride to one of them) should help make your riding a bit brighter.
If you ride in East Portland, swing by the E Burnside overcrossing of I-205 (9400 E Burnside) tonight between 4:30 and 6:30 for free hot drinks, bicycling information, and more.
The event is being hosted by the East Portland Action Plan Bike Subcommittee (EPAPbike), the Oregon Department of Transportation (ODOT), the Portland Bureau of Transportation (PBOT), and the Friends of Trees. This is part of an ongoing effort to promote the active bike community in East Portland.
After that, roll down to Southeast Portland for opening night of the annual holiday lights extravaganza on Peacock Lane. Tonight is the only night of the event's two-week run where the street is completely closed to cars. That means you can roll (at a walking speed of course), walk, and frolic in the midst of the glorious light displays without ingesting toxic fumes or risking life and limb.
There's even a pre-Peacock meet-up and ride being hosted by our friends at Shift. Join them for their monthly social at 7:00 pm for drinks at Belmont Station (4500 SE Stark) and then ride over to Peacock Lane at 8:00 pm.
The weather looks nice and dry right now. Let's hope it stays that way for tonight!